Megan Blandford finds that the rugged landscape of the Grampians is just the place to live the high life.
They say Australia's history is short, but one look at the Grampians will disabuse you of that notion.
These ancient mountain ranges are intriguing, with art dating back thousands of years and secrets tightly held by the craggy rocks overlooking volcanic valleys.
According to more recent history, the Grampians region holds some of the world's oldest vineyards – and the town of Great Western is, as its name suggests, a great place to start exploring this most important local heritage, one glass at a time.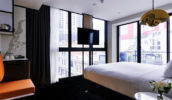 Best's Wines first planted their vines in 1866, and since then has only been in the hands – and grape-squashing feet – of two families.
They're best (oh yes, another pun) at offering different perspectives to your wine experience, from tours through the underground cellar to their famous sparkling shiraz in a Grampians Helicopters flight over the ranges and towns.
In the middle of the Grampians, with sheer, towering cliffs at either side, sits a small town called Halls Gap, and it's the cream of the crop when it comes to a base for the weekend.
Home to fresh produce, available at Harvest Cafe and Provedore (including a compulsory introduction to Frankie the resident pig) and Red Rock Olives (olive salt will be your new favourite seasoning), this is also the spot from which to access the mountains.
It's your choice whether you'd like to drive, stroll or hike through the Grampians.
If you're in the car, the best spots include Boroka Lookout with a view back over Halls Gap and Lake Bellfield, and MacKenzie Falls for the ultimate Grampians postcard picture.
If you want to travel by foot for some of your visit, try a short half-hour walk to Venus Baths, or the five-hour Wonderland Loop.
If this gives you a taste for the walking life, you can always come back for more: the Grampians Peaks Trail is under development to offer a full 13-day hike, and the first three days are open and ready to take step by step.
You can choose to go it alone, or hire one of the knowledgeable guides from Absolute Outdoors.
Speaking of the outdoors, no visit to the Grampians is complete without spotting some wildlife.
You're likely to see kangaroos and emus hopping and running past and, if you want something a little more unexpected, then hop on over yourself to the Halls Gap Zoo in the foothills for meerkat and giraffe sightings.
If you're only staying for a weekend, then it's almost time to get back to reality, but it's also important not to rush these things.
Ease your way back home with a delicious stop at Dunkeld's famous Royal Mail Hotel , where you'll dine on two-hatted, nature-based cuisine from an amazing degustation menu, with a kitchen garden tour and a huge wine offering.
You won't make a dint in the cellar of more than 26,000 bottles, but you can certainly try.
Another worthy stop as you transition slowly back into your normal life is the rustic Pierrepoint winery  in nearby Tarrington, where you'll be greeted at the cellar door by ducks, chooks, lambs, and a lovely sparkling white.
In fact, perhaps our greatest tip for the Grampians is: don't offer to be the designated driver for your weekend away.
Leave the motoring to any poor person who doesn't realise just how amazing the wines in this region are.
We'll keep your secret.
Getting there: The Grampians
The Grampians is a beautiful three-hour drive west of Melbourne.
Staying there
Picture yourself lying in bed with a view out to bushland: the log cabins at DULC are this and more; visitgrampians.com.au/accommodation/dulc
Boroka Downs Retreat is intimate, kid-free luxury complete with your own spa and hammock; visitgrampians.com.au/accommodation/boroka-downs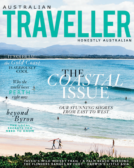 Enjoy this article?
You can find it in Issue 70 along with
loads of other great stories and tips.