One of Australian Traveller's favourite photographic contributors, ATO employee George Suresh, recently returned from a Victorian photo expedition with another of AT's favourites, landscape legend Ken Duncan.
As part of a push by TourismVictoriato re-energise visiting numbers to the region, and to promote the ideals of adventure and nature-based travel along theGreat Ocean Road, images from the expedition will appear in a touring exhibition in Sydney and Brisbane.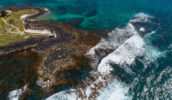 George's experiences on the four-day trip were eye-opening. "Working with Ken Duncan was basically a dream come true for me," says George. "I'd always admired his work and accomplishments when growing up."
Returning with an impressive collection of images, George says his favourite was taken atCapeOtwayand depicts a breathtaking scene of kangaroos at late sunrise. "Through its hints of green and gold colours and the rugged claws of the roo baking in the early morning sun, this image to me symbolisesAustraliain so many ways."
NOTE: George would also like to dedicate the images from his shoot to the memory of Mrs Thi Ngoc Nguyen – mother of his close friend and colleague, Mark Nguyen.
HAVE YOUR SAY: What do you think of George's images? Sign in below and post your comments, or head to our Reader Section to enter our regular photography competitions.