Last time Australian Traveller Reader Mark Vicol from Canberra dropped in on Apollo Bay, he had considerable trouble tearing himself away . . .
Reader Favourite: Apollo Bay Calling

Last time AT Reader Mark Vicol from Canberra dropped in on Apollo Bay, he had considerable trouble tearing himself away . . .
To start, if somehow I had the good fortune of being stuck in Apollo Bay, I wouldn't be looking for a way out in any hurry. It's the kind of place where you really could come for a weekend and end up staying a lifetime.
Located at the epicentre of Victoria's astounding and spectacular Great Ocean Road, Apollo Bay sits where the forest meets the sea, combining clear uncrowded surfing beaches with the lush greenness and growth of the Otway ranges. Add to that the bustling cafe strip along the beach road and the proximity to the Twelve Apostles, waterfalls, Cape Otway and other Great Ocean Road gems, and you begin to see how – for many – Apollo Bay is paradise by the sea.
In three and a half days we managed to pack a lot into our recent southern escape. We could have easily spent all that time on the beach. Although it's getting close to just about as south as you can get in mainland Australia, the beach rates up there with any in the north, and the backdrop of the Otways makes it hard to know which way to face when lazing around on your towel.
About 30min out of Apollo Bay, through the green hinterland, is Hopetoun Falls. The winding forest track, through impressive Otway tall ash eucalypt forest, rainforest and crossing forest streams, ends at the waterfall and pool. Yes, we dipped. And yes, it was freezing. But freezing in the most refreshing way imaginable.
The town itself has a cafe scene to rival any other small town. The ocean-facing main strip is busy with Ocean Road traffic, tourists and residents but never seems to reach the fever pitch that can consume other towns like Lorne and Torquay. The cafe highlight was definitely the aptly name Nauti-gals, a funky coffeehouse and wine bar. But What about a bed to rest your weary head? Being budget conscious, we checked in at the Surfside Backpackers. It was budget in price, but not in quality. Although well worn, it's the kind of place where you instantly feel at home. There's a well-stocked communal kitchen, comfy and warm dorm rooms and, most of all, it was all very clean – and everything worked! (A huge plus for a backpackers.) In just the three days we were there, the manager became more of a friend than a manager.
So, then, are there any drawbacks to Apollo Bay as a travel destination? I can't think of any, except for having to leave. We craved adventure, we were rewarded. We sought natural wonders, we weren't disappointed. We longed for a touch of cosmopolitan, it was there. Above all else we demanded relaxation, and Apollo Bay delivered with aplomb. Yes, it is paradise by the sea. Apollo Bay, I will be back – next time, please don't let me leave.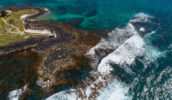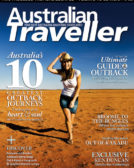 Enjoy this article?
You can find it in Issue 21 along with
loads of other great stories and tips.