Australian Traveller magazine looks at the Great Australian Aboriginal Experience at Worn Gundidj in Warrnambool, Victoria.

In a violent volcanic eruption 30,000 years ago, the world of the ancestors of the Koroitgundidj people changed indelibly, as witnessed by the artefacts found in layers of exposed ash. Today, nestled in the crater of the now dormant volcano, the Tower Hill Game Reserve in southwest Victoria is a haven for wildlife, a fascinating ecological site and a showcase for local Aboriginal culture.
Worn Gundidj Aboriginal Cooperative, with Parks Victoria, has revitalised Tower Hill. "The most important thing at Worn Gundidj is to reinvigorate the culture and storylines of our people," says John Collier, Executive Chairman of the Cooperative. "We take a holistic approach to the area. Not only do we do interpretative tours but we're involved in conservation, tree planting and looking after the natural habitat. Indirectly that transfers skills to our guides."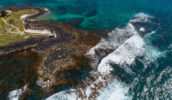 Walking along any of the trails that wind through the blackwoods, gums and sheoaks, it's easy to imagine this was a rich food source for Koroitgundidj people – kangaroos, koalas, emus, wallabies, echidnas, waterbirds and the Aboriginal dinner-time favourite magpie geese abound in this crater-bound ecosystem. For the geologically inclined, venturing down the Journey to the Last Volcano Walk showcases the volcanic cones, called nested maar, that rise from the lake that now fills the crater.
One of the guides explains a Creation story of the volcanic plains of southeast Australia: "A clan of giant people roamed the region. One man gained the use of fire. He would cook all his meats in fires lit in large holes lined with rocks but often the rocks would shatter, sending boulders and ash into the air. A neighbouring clan was jealous and went about extinguishing them. The giant man became angry and moved away to build his fire somewhere else. This is why there was volcanic activity and why volcanic lakes exist."
The interpretative walks provide visitors with an Aboriginal perspective about the flora, fauna, volcanic land formations and medicinal practices of the Aboriginal landowners. "We make learning about Aboriginal history fun," says John as he describes the interactive activities that can be enjoyed at Worn Gundidj. "By engaging with people and playing games with children, we aim to stimulate the public to become more involved with Aboriginal culture and Aboriginal people."
Details // Worn Gundidj Visitors Centre
Located off the Princes Highway, 15km north of Warrnambool, 275km west of Melbourne. Open Monday to Friday 9am-5pm, weekends and public holidays 10am-4pm. Entry to the Tower Hill Game Reserve is free. Tour costs available on application. Programs include guided walks, bush food, spear throwing, painting, boomerang throwing, message stone painting, dancing and traditional ceremonies.
Phone // (+61) 3 5561 5315
Email // info@worngundidj.org.au
Website // www.worngundidj.org.au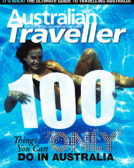 Enjoy this article?
You can find it in Issue 20 along with
loads of other great stories and tips.