Who knew Victoria's highest peak could make for a family-friendly holiday? Read on as an Australian Traveller reader climbs Mt Bogong with her family.

AT Reader Noeleen McPherson from Mt Martha in Victoria took her family for a trek up Victoria's highest mountain, to see what she could see . .
It had been several years since we'd holidayed at Bright, Victoria, and I now wonder why we'd waited so long. It's one of the most beautiful corners of Australia, and especially with the colours of the autumn leaves and the shades of blue on the Victorian Alps.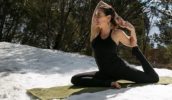 With a long-time yearning to climb Mt Bogong, Victoria's highest peak, we learnt of a new Adventure company in Bright. 5 Star Adventure Tours had been established in the last five years by Tracy Walker and Daniel Boissevain, and both have loads of experience and knowledge in running outback wilderness tours. We decided on a tour to Mt Bogong for the next day. We met at 8am at their Bright base, The Wine and Cheese Bar, for a delicious treat of Danish pastries and hot drinks before we hit the road.
We boarded our extraordinary vehicle, which had been especially built for off-road safaris. It boasted plenty of legroom with very comfortable seating (aircraft style) and the views were fantastic as we were up so high. Daniel drove us up to the base camp at Granite Spur, an inaccessible wilderness area, all the while providing us with an incredible and passionate commentary. We were given a map, instructions and a walkie-talkie; this way Daniel could keep in touch with each member of the group who had varying levels of fitness.
The forecast for this March day was an intense 35 degrees. So, armed with plenty of water, daypacks and our cameras – and with Noel Coward's famous words about mad dogs and Englishmen foremost in my thoughts – we stepped out into the midday sun. Daniel stayed at the rear with those not so fit, including an 84-year-old English tourist. The steep ascent to Eskdale Spur was our first challenge, and as we reached the Snow Gum line we could see forever across the top of the Victorian Alps. The trek from here was less steep, but the air was thinner. You could hear your heartbeat with each step. The fittest headed up to Hells Gate and then on to the summit.
Although it's only approximately a five kilometre return hike taking around 3.5hrs, it's very gruelling. Everyone was more than ready for the fabulous luncheon of local gourmet produce and wines from the Ovens Valley, which Tracy had prepared. With the table set, we sat down and consumed an amazing lunch, and talked non-stop with adrenalin still running – especially for the three who'd reached the summit.
We headed home, all thrilled with our own personal achievements. We felt we'd had a life-changing experience, seeing what most people only see in rare documentaries. Bright will now be a frequent destination for us. The best is often in our own backyard, and with Tracy and Daniel from 5 Star at the helm, how can we go wrong exploring the beautiful Victorian Alps?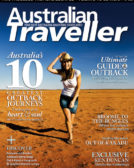 Enjoy this article?
You can find it in Issue 21 along with
loads of other great stories and tips.