The Great Alpine Road snakes through northeastern Victoria and as every corner is turned, a new farm or vineyard comes into sight, each with the freshest of fresh produce all begging to be sampled.
Past all these gourmet delights, Bright is found on the edge of Mt Buffalo National Park with much more to offer than mouth-watering food and wine. Bright is a home away from home for outdoor types of both the normal and extreme variety.
"People rave about the splendid autumn, but Bright offers a rejuvenating escape any time of year." – Ken Boundy
Bushwalking, fishing and cycling are popular, but there's paragliding, caving and abseiling for those with a taste for adventure. Winter brings snow lovers, who use Bright as a base for neighbouring Mt Buffalo, Falls Creek or Hotham.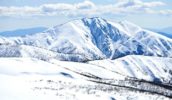 But it's the Bright Autumn Festival (April 25 to May 6) that attracts the most visitors. The green alpine forests are ablaze with the vivid colours of yellow, red, copper and gold as the season melts from a hot summer to a cool autumn in preparation for the snow that will soon blanket the mountains.
Where? // 331km (3hrs 46mins) northeast of Melbourne.

Did you know? // Bright was named after British orator and politician John Bright, who coined the phrase "England is the Mother of Parliaments", in that many international legislative bodies since have been modelled on the UK system.
Return to: the 100 Best Towns in Australia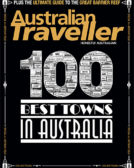 Enjoy this article?
You can find it in Issue 26 along with
loads of other great stories and tips.