A picnic of fresh, local produce sounds simple, right? Think again. Megan Blandford has a 'heightened' food experience.
Many years ago on a Friday night, I was letting loose on the dance floor when I spotted a man I decided to introduce myself to. We danced together before exchanging numbers. In that hour, the dance floor of a dingy pub became the stage of a major life turn; I'd just met the man I would marry.
Fast forward to the same date 17 years later, and we find ourselves placed within another hour that will set the tone for the next chapter. The stage is remarkably different, taking the form of a picnic rug of sorts.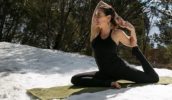 It may sound quite tame compared to that late night dance floor of years past, but I ask you: have you ever had a lunch that's so extreme you have to wear a helmet and harness while eating?
We're atop Mt Buffalo in north-east Victoria, a massive collection of granite boulders, which form imposing, craggy rock faces. It's an adventure hub for hang gliders, hikers, cross-country skiers, rock climbers and abseilers, and our guide for the day, Tim, is a keen enthusiast of the latter two sports.
"This is like my backyard," he says of the mountain whose sides he's spent many days traversing.
Mt Buffalo is described on Wikipedia as 'moderately tall', but when you're practising abseiling at 25- and 45-metre heights, trying to convince yourself to trust a rope and a stranger with your life while you walk backwards down a sheer cliff… there's nothing 'moderate' about it.
Luckily, Tim is the perfect stranger to enlist through this experience. He's just the right mix of reassuring and instructive, and we feel immediately safe in his hands.
I ask Tim's advice about whether I should look down or descend blindly. "Just watch your feet, and don't look down," he suggests. I do as I'm told, until reaching the point where my feet no longer touch the mountain and I'm left swinging on the rope in mid-air.
"It's OK! But don't forget to breathe!" Tim calls down to me, making me realise I've been holding my breath for most of this abseil. I take it v-e-r-y s-l-o-w-l-y down the rest of the way, my hands aching from my tight, panicked grip.
My husband comes down next, in his usual fashion: cavalier and fast. (Show-off.)
Together, we've just found why our instincts led us to an extreme adventure for our anniversary rather than the usual romantic dinner: supporting each other as we step outside our comfort zones is a nod to the personal risks we're about to jump into over the coming years.
And then it's lunchtime, AKA time to abseil down to our picnic rug. The portaledge is essentially a tent floor attached to the side of the mountain with ropes. The idea of eating lunch on it is daunting, but Tim puts it into perspective: "I sleep on it when I'm doing a multi-day rock climb," he says, adding that he's glad he no longer sleep walks. Uh-ha.
We abseil down to the ledge's position 300 metres above the gorge floor, realising that no matter how many times you abseil, that first step is always really hard to take.
We marvel, though, at how fast we've become comfortable on our mid-air picnic spot; there are a few ropes and straps around, but we lean back against the mountain and soak in the views over the Alps, Australia's most impressive mountain range. The scenery from the top of Mt Buffalo is great, but down here it's even better.
Tim abseils down to deliver our picnic box, and then leaves us to enjoy our oddly romantic lunch. The food, packed by Bright deli The Loaded Basket, is simple but perfect.
We start with local olives, then dive into a sourdough roll with chicken, cranberries, feta and freshly picked greens, and a pearl barley salad with fresh sundried tomatoes. Next is a spiced cupcake each, with lashings of cream cheese icing, and we're feeling fully satisfied in more ways than one.
We sit on the portaledge for an hour, chatting about where our lives have taken us and where we're headed. There's no better way to celebrate a relationship than to do something crazy together.
It's now the beginning of a new personal chapter, living in a new place with new jobs and new goals, and this wobbly mountainside ledge is our launch pad to the next adventure.
The details: Extreme picknicking
Getting there: Mt Buffalo is a three-and-a-half hour drive from Melbourne, through beautiful alpine scenery.
Playing there: This is the only portaledge experience in Australia, and it's a ripper. The Portaledge Picnic is offered by Absolute Outdoors through all seasons (weather dependent) except winter. The cost is $300 for two people including food.
Staying there: The Buckland at the base of Mt Buffalo is perfect for couples to indulge after an adventurous experience. Prices start at $670 for a two-night weekend stay.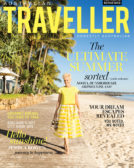 Enjoy this article?
You can find it in Issue 66 along with
loads of other great stories and tips.