Blaze Rock Retreat //
With a name like Blaze Rock, how much hotter could it possibly get? Brand new eco-friendly luxury villas with plenty of hot rocks to go around, this spa retreat in the Grampians has just two 4.5 star villas on 48.5 acres. The rooms are the ideal romantic hideaway – imagine a deep, claw-foot bathtub right in the middle of the room with views of the surrounding bush accompanied by the sounds of a crackling fire. Already popular with honeymooners, the relaxed and amorous atmosphere has already triggered the odd marriage proposal.
From $250, Halls Gap Rd, Pomonal, (03) 535 66 171, www.blazerock.com.au
bothfeet walking lodge //
Hotness doesn't necessarily mean big, flashy and expensive. Sustainable tourism initiatives have received the big tick in 2008, and will continue to do so. bothfeet walking lodge's four star rooms will provide weary hikers along the Great Ocean Road with a comfortable place to rest and sleep peacefully in the knowledge that the exclusive building has a minimal eco footprint. Just a quick skip from the coast and surrounded by rainforest, this hot lodge lets the beauty of the natural environment do all the work. By the time the lodge's remaining rooms are completed in 2009, up to 20 guests will be able to unwind in the spring-fed pool and soak in the greatness of the GOR while drifting off to cloud nine on massage tables.
From $1395 inc walking tours, Great Ocean Road, Victoria, 1300 767 416, www.bothfeet.com.au
Made-up and Made-over
Pensione Hotel Melbourne //
The Melbourne Pensione has found a great accommodation niche: good quality, no frills, low price and very small rooms. AT stayed at the budget hotel in October '08 and were upgraded from a petite double to a double. Even that was distinctly small, which leaves us wondering if "petite" is real estate speak for "miniscule". The renovated rooms contain overwhelmingly huge plasma TVs and are clean and comfortable. Anyone over 6ft tall will find the beds a bit short and the closet-sized bathroom a touch awkward, but at $125 a night who are we to complain?
From $99, Spencer St, Melbourne, (03) 9621 3333, www.pensione.com.au
Peppers Springs Retreat & Spa //
Visitors have been washing their daily stress away in historic Daylesford's mineral springs for centuries. The charm of Edwardian style bathhouses and villas is unbroken, but in 2009 it's not just worry lines that will disappear to make room for a rejuvenated new look. Peppers Springs Retreat and Spa has added to the existing heritage accommodation with some contemporary design and five luxurious new spa villas. And the much-loved Hepburn Bathhouse & Spa has just been firmly but gently transported into the 21st Century as well, with a brand spanking new spa building.
From $460, Main Rd, Hepburn Springs, (03) 5321 6200, www.peppers.com.au/Springs
Novotel St Kilda //
You might think Sydney does better beachside accommodation and that bigger hotel chains have nothing exciting to offer – but we beg to differ! In an unprepossessing Novotel building right on hip St Kilda's promenade, you'll find a fresh, beachy place to stay with beautiful bay (and city) views. It might not be the hottest hotel out there, but, by the time you read this, the completion of this hotel's extensive facelift should firmly entrench it on 2008s list of great makeovers.
From $179, Esplanade, St Kilda, (03) 9525 5522, http://www.novotelstkilda.com.au
Select Burnham Beeches //
Relive the flamboyant and romantic feel of the Art Deco era in this country retreat in the Dandenong Ranges built in the 1930s for wealthy Aspro king Alfred Nicholas. The heritage-listed manor has had a colourful history doubling as a children's hospital during WWII and opening as a guest house in the '80s only to close its grand doors shortly after. Select Burnham Beeches surely must be one of the most highly anticipated re-openings of 2009. The hotel's 50 guestrooms and suites are likely to receive a 4.5 star rating. Let's hope it stays open longer this time around.
Price range TBC, Sherbrooke Rd, Dandenong Ranges, (02) 8969 3900, www.selecthotels.com/burnhambeeches
Hilton on the Park Melbourne //
In its prime location near Fitzroy Gardens and the MCG, Hilton on the Park Melbourne is undergoing one of 2008's most expensive refurbs. A whopping $40m has been spent to bring the hotel's 410 guestrooms, conference and events floors up to speed with the rest of the brand. And every penny must have been necessary to exorcise the ghost of some seriously dated designs and draperies (reminiscent of The Bold and the Beautiful), transforming them into the sophisticated and stylishly modern rooms shown to AT.
From $200-$2000, Wellington Parade, Melbourne, (03) 9419 2000, http://www.hilton.com
The Bank Beechworth //
If you're a hopeless romantic or fan of Mr Ed, you might enjoy a stay in this stable-turned-luxury-B&B in pretty Beechworth. The family-run property promises a surprising array of amenities and comfort (for an old stable, that is), and home-cooked meals at the B&B's wine bar and restaurant – the likes of local goats cheese soufflés and decadent chocolate fondants served with dark chocolate ice-cream – should make this a stalwart with discerning gourmet travellers.
From $275, Ford Street, Beechworth, (03) 5728 1786, http://www.thebankbeechworth.com
Sofitel Mansion & Spa //
This majestic hotel is reminiscent of an English country estate. Grand and imposing – with its own clock tower – it sits in gorgeous Werribee Park around 30min from Melbourne's CBD. And at Sofitel Mansion and Spa, guests holiday in style, darling. Polo tournaments, artwork worth more than $1m, a sculpture walk and rose garden complete the picture. The hotel's restaurant has been the first section to receive a makeover, and we look forward to seeing whether the remaining works throughout 2009 will preserve this grand country lady's charm. One to watch.
From $269, K Road, Werribee, (03) 9731 4000, www.mansionhotel.com.au
Hilton Melbourne South Wharf //
Hilton are promising a "fresh take on the Melbourne hotel experience" with this third local property in the group. AT has high hopes for the soon-to-open tallest building in the city's emerging South Wharf hub. Views are guaranteed and, since Hilton rarely gets it wrong, this brand newie will hopefully live up to the heightened expectations of luxury travellers from April 2009.
Prices TBA, Lorimer St, South Bank, (03) 8888 7768, www.hiltonmelbourne.com.au
VICRumour Mill
1. $217m gets you a whole lot of hotels in a certain board game. But if you want to invest in hotels in Melbourne's hotspots, you'll only get four – albeit arty ones to suit the town: The Olsen (to open 12/09), The Storrier in South Yarra, The Smart and The Larwill in Prahran are currently under construction.
2. There are all sorts of rumours about The Belvedere on St Kilda Rd. But will the unusual building – a high-rise incorporating a heritage-listed mansion – include a hotel?
3. As well as completing phase one of a major overhaul to its luxury suites and rooms, Crown Towers' plans for a third hotel (fronting Clarendon St) will come at an even higher cost. An estimated $300m will add another 658 rooms to the existing entertainment complex, if approved.
4. The Hotel Windsor has long harboured grand plans for a much-needed $45m major refurb, but the "economic downturn" (don't say the "r" word) has seen that stalled, with a downgraded soft refurb to occur "sometime in '09".
AT's Top Five – not new, not refurbed, just our favourites
1. Crown Towers // A rock star hotel. Magnificent and majestic. See and be seen.
2. Sofitel Melbourne // The arts hotel in an arty town, with a Royal Suite that out-fancies all but the Crown Towers.
3. Park Hyatt Melbourne // All class. An oasis of indulgence at the top of Collins St.
4. Hotel Lindrum // Sublime boutique Melbourne hotel. Expensive, but worth it.
5. Lake House // Award-winning gourmet, lodging and spa retreat that assured Daylesford's place on the tourism map. 
HotelClub 2008 Picks as voted by more than 70,000 consumers
1. Crown Towers, Melbourne
2. The Hotel Windsor, Melbourne
3. Four Points by Sheraton, Geelong
4. Sofitel Melbourne
5. The Langham, Melbourne
Thinking of going somewhere else? Find the hotest hotels in all the other states
2. New South Wales and the ACT Hot Hotels
4. Western Australia Hot Hotels
6. Northern Territory Hot Hotels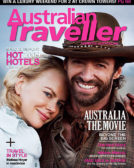 Enjoy this article?
You can find it in Issue 24 along with
loads of other great stories and tips.