Look out Disneyland – Ned Kelly's Last Stand in Glenrowan, Victoria, is gunning for you. Hailed by Bill Bryson as being so bad it's good, AT takes a fresh look at the animatronic extravaganza that's too awful not to contemplate.
Words and images by Lori Van Deman-Iseri, who paid her own way and visited anonymously.
The 210 residents of Glenrowan in Victoria's northeast are just as coy about their robots as they are proud of their town's Kelly history. We arrived in town just in time for the Kelly Country Festival, a daylong celebration of Australia's most famous bushranger, complete with an historical re-enactment of the siege. There was no mention of the subject of our search, the animatronic Ned Kelly's Last Stand, in the festival literature. Fortunately, the storefront on Glenrowan's main street is easy to find.
Some sticklers might demand historical accuracy. But historical accuracy wouldn't be nearly as much fun.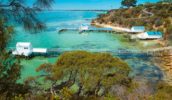 "Americans think it's funny, but Australians don't always get it – because Americans have been to Disneyland," says the show's creator, Bob Hempel. As an American who has been to Disneyland, I'm not convinced that comparison is the source of the comedy. But you can quickly wear yourself out fretting over the whys of a singular phenomenon. If that explanation works for Hempel, it's probably as close as you can get to some kind of truth.
After balking a bit at ticket prices ($23 per adult) and being warned by signs that "This Attraction Can And Does Frighten People Of All Ages," we were allowed into a dimly lit waiting room. All four walls were covered in discount store spiders and cobwebs. The cobwebs also covered several mannequins seated around the room. The front stage showcased piles of odd decorations, which you could easily imagine being the menagerie you'd end up with after a lifetime of questionable purchases at estate sales. There were also several more mannequins, some dressed in an appropriate fashion for 19th Century bushranging, some looking a bit more like Dracula. Hempel's grandson entered to let us know when we should move to the next room ("After the magician tells you to"), and that despite the many, many signs shouting NO PHOTOS, we could, in fact, take photos.
The lights went out. A blow-by-blow description of what happened in those rooms over the next 40mins would utterly fail to convey the experience of Ned Kelly's Last Stand. Through eerie projections, robotics, smoke machines and meticulously built sets, we were guided through the railway station, the inn, the shootout scene, the inn again (this time on fire), and the Melbourne Gaol. It is the singular aesthetic vision of one man, and an amazing achievement. It is also hilariously awful. From the unbalanced sound levels that make it impossible to hear the narrative over the barking of poker-playing dogs and the odd robotic baby crying, to the bearded barkeep in a bright orange feather boa, to the shootout scene based on the movie Gunfight at the OK Corral, the entire production is billed to be "exactly as eyewitnesses saw it," while being quite obviously nothing that anyone has ever seen on Earth, ever. And it's great. Some sticklers might demand historical accuracy. But historical accuracy wouldn't be nearly as much fun. Furthermore, after watching the festival's siege re-enactment, I'm not convinced anyone has enough idea of what the real Ned Kelly story is to be able to suggest corrections.
The tour ends with Ned's hanging (well, actually, he's already been hanged when you enter the Gaol, then he's reeled back up and rehanged for the audience's enjoyment), after which his corpse performs a mysterious three-inch levitation. Bewildered guests exit into a room with a player piano, where every surface is covered with hundreds of Disney character figurines and holiday decorations. The kids on our tour all shouted, "It's Christmas!" and anything that may have terrified them in the last half-hour utterly vanished. The room is actually where Hempel's grandchildren stay when they come to visit.
Disneyland was the inspiration for the 75-year-old Hempel, who visited the theme park and said, "I can do that." But don't get caught thinking that, because of the Disneyland connection, Ned Kelly's Last Stand is a happy, sanitised version of events. No Disneyland ride shows a child robot crying, "I don't want to die! I just want to go home!" or places visitors inside a small building then simulates setting it on fire. Hempel is unapologetic about the disturbing qualities of what he's built; to him, the story is what it is, and he's not about to water it down.
Over the course of 30 years, Hempel has built robots, written scripts, recorded the sound, created special effects and assembled interiors and props. And he's not done yet. "In the next few years I'll have my mortgage paid off, and then I can put the real money into it," he says. More smoke machines are high on his list. There's no telling what else may be lurking in Hempel's vision for the Last Stand, but one thing is for sure: you'll never see anything like it again.
Details // Ned Kelly's Last Stand
Where // At the Glenrowan Tourist Centre, 41 Gladstone St, Glenrowan.
Contacts // (03) 5766 2367, www.glenrowantouristcentre.com.au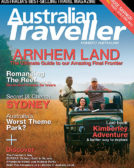 Enjoy this article?
You can find it in Issue 31 along with
loads of other great stories and tips.