Hunting lodge chic and rare-beast feasts make this Melbourne pub hotel a cut above most boutique city stays, writes Elisabeth Knowles. Australian pub accommodation can be pretty be awful, often typified by flickering fluorescent strip lighting, wire-sprung mattresses and musty shared bathrooms, but the Middle Park Hotel is
at the other end of the spectrum entirely. While it may have a similar skeleton to some Victorian-era pubs, it's borrowed its décor from the English countryside. Think rural hunting lodges rather than Fawlty Towers, with monogrammed carpets in royal blue and red, the requisite stuffed stag's head above the fireplace and a lively in-house restaurant that draws diners from far and wide.

Blokes love the bar at the Middle Park because it broadcasts live all the major sporting events and has one of the longest free-standing bars in Australia, with 42 individual beer taps.

But what got me salivating was the thought of the Middle Park's rare-breed beast feasts, which include Wessex saddleback pork, Meredith baby lamb and dry-aged Black Angus beef. Being a meat lover with a night to spare in Melbourne, it seemed the obvious place to stay.

Among locals, the Middle Park's weekend roasts are legendary. Each Wednesday, fans on the hotel's Facebook and Twitter pages receive an alert telling them what type of meat will be on the roast menu for the coming weekend.

Due to the restaurant's popularity, bookings are essential, but the down-to-earth staff at the reception station will always try to make space for a guest at the hotel. It's Friday night and so I am squeezed into a tiny table in a snug corner with a terrific vantage point. From here, I can watch the sociable goings-on in both the bar and restaurant – endlessly entertaining for a solo traveller.

The menu was designed by head chef David Marshall in conjunction with "food consultant" Paul Wilson, who both used to work at The Botanical, one of Melbourne's most respected fine-dining restaurants. They seem to have brought with them silver-service showmanship too – you don't just get to look at the menu, the wait staff bring out a cutting board topped with choice cuts of meat for you to choose from if you'd prefer to order a la carte. They tell you what each cut is, where it came from and how it was raised.

Terrified by the stone-age proportions of a 1kg Black Angus club steak, I stick with the roast – Berkshire pork – which is as succulent and tasty as can be, and the perfect hearty main to precede a dessert of warm upside-down heritage apple tart with Calvados ice cream.

I'm so stuffed I take my time climbing back up the stairs to "the Apartment", which is the biggest suite in the 25-room hotel. The cavernous lounge area dwarfs an L-shaped six-seater leather sofa and glass-topped coffee table.
It's a ridiculous choice of accommodation for a solo traveller, but what the heck – this was already turning out to be a bit of a gluttonous weekend and I'd secured a really good rate. So I try to spread out as much as I can: bags thrown here, coat hung there – it'll be quite a task finding all my stuff again before I leave. In the bedroom, I have the wall-hung TV tuned to the news; in the loungeroom, a more cinematic-sized version shows a Jude Law movie.

I waddle past the kitchen, with its poster-sized black-and-white photo of Bon Scott-era AC/DC, and into the bathroom. The cast-iron claw-foot tub looks perfect for one, but could present a danger as I often fall into a food-related coma after a big meal – and that tub's deep. The shower recess seems the safer option, and has two rainforest showerheads with enough space between them for me not to elbow my invisible friend while washing my hair.

Post shower, I rattle around the suite for a while, make a few cups of tea (weirdly, there's only one teaspoon in this huge apartment) and drift off with my belly still comfortably full.

Next morning, I'm not hugely hungry but I head across the road to Mart café, which was recommended by one of the staff at the hotel. Located in a converted station-house at the functioning Middle Park light-rail station, it's absolutely packed with Saturday-morning punters. Mart is a great place for out-of-towners to get a feel for what it would be like to live in Melbourne – the locals are casual, relaxed, happy, unpretentious and cool. The food's good too – I manage to wolf down two poached eggs, bacon and avocado with sourdough toast ($17.90) before sadly hopping on the tram out of town.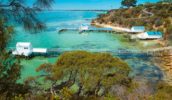 What's The Gossip?



"The Middle Park Hotel is largely about meat, served with a hefty dose of irony, to make one crowd-pleasing package."
– Larissa Dubecki, The Age



THE AT Verdict



Elisabeth Knowles who paid her own way and visited anonymously says: "I don't know about 'irony' – I took this place on face value and experienced an affordably priced, coolly furnished pub hotel with friendly service and a truly fantastic restaurant, which is, yes, big on meat. Even if you don't stay here, when you're next in Melbourne book a table for a weekend roast and drop me a line to tell me what you ordered. I'd be surprised if it wasn't exceptional."

DETAILS


Where: 102 Canterbury Rd, Middle Park, Melbourne.

Notes • The King Apartment's standard nightly rate is $500 but Elisabeth scored it for just $249 on a Friday night via the Middle Park Hotel's own booking engine. Double deluxe rooms (which are normally priced at $200 per night) were on offer from just $119 per night (on Mondays or Tuesdays). Go to www.thebookingbutton.com.au for current rates.

• Rare Beast Feasts cost from $55 per head for six or more diners, with 72 hours notice required. Two-course set-menu weekend roasts are available Friday night through to Sunday night (including Saturday and Sunday lunches) and cost $55 per person.

Contact (03) 9690 1958;

www.middleparkhotel.com.au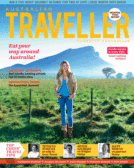 Enjoy this article?
You can find it in Issue 40 along with
loads of other great stories and tips.