Sometimes it's good to just throw up your hands and get lost. If it can be done safely – like inside the world's oldest circular rose maze at Ashcombe Maze and Water Gardens – so much the better. The first of its kind in the world and a garden lovers' dream, 1200 rose bushes have been specifically chosen for their variety of colours and scents for this ultimate sensory overload. After you've roamed through the 25-acre property, in and out of daintily manicured gardens and themed grounds (if mazes aren't your idea of fun), it's still a pretty beautiful place to spend a morning, lunch or afternoon. 
"NO DOUBT IT'S AS PRETTY AS A PICTURE. I JUST WANT TO SMELL IT!" – Sandra Sully

The licensed café serves great meals and their fabled rose scones – it'd be silly not to try one when you visit – are delicious. The restaurant with its arched ceilings and massive windows looks out over Australia's largest and oldest traditional hedge maze, at more than 3m high and 2m wide. Lose yourself in one of the country's premier garden surrounds – you'll be amazed at how good it feels.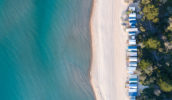 WHERE // The Ashcombe Maze and Water Gardens are on Shoreham Road, Shoreham, in Victoria's Mornington Peninsula. Phone (03) 5989 8387 or check out www.ashcombemaze.com.au for more info.
DID YOU KNOW? // Fully 217 varieties of roses were used in creating the circular rose maze at Ashcombe.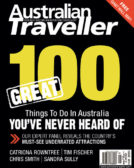 Enjoy this article?
You can find it in Issue 14 along with
loads of other great stories and tips.