Heralded as the wealthiest postcode in Australia, pretty Portsea on Victoria's Mornington Peninsula remains warm and welcoming, writes Luke Wright.
Out & About: Portsea

Heralded as the wealthiest postcode in Australia, pretty Portsea on Victoria's Mornington Peninsula remains warm and welcoming, writes Luke Wright.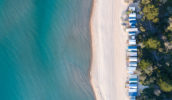 Elementary, my dear Watsons
At the end of Victoria's boot-shaped Mornington Peninsula, one half of the pincer-like promontories that almost enclose Port Phillip Bay, lies pretty Portsea. Less than 100 kilometres from Melbourne, with a few shops and only a few hundred people, the tiny town with the big reputation is regularly ranked as Australia's wealthiest postcode (3944, in case you're thinking of writing anyone there a letter).   
The luxurious little village is a sanctuary by the sea for moneyed Melburnians, and with a median house price of more than a mil' it's easy to imagine this well-to-do enclave is overly exclusive and inaccessible. But, McMansions aside, Portsea is warm, welcoming and boasts – among other gems – one of the best pubs on the planet. That alone is reason enough to visit.
In the 1850s, Scotsman John Watson, followed later by his two brothers, found his way from Scotland to Portsea and knocked up a little cottage and bar by the beach. The Portsea Hotel has since changed owners many times, and has been rebuilt and revamped to make it what it is today: an iconic Australian institution with the best beer garden in the Garden State. With a charming coastal backdrop, the pub overlooks the historical Portsea Pier. It's not uncommon to watch from the grass, beer in hand, as dolphins dip and dive while the sun settles on the ink-blue bay.
This classic outfit, now owned and directed by the hard-working Andrew Henderson, is a beyond-perfect summer session pub, but also does a pretty damn good turn with a winter fire, a Chargrilled Porterhouse and a bottle of Pinot (local, of course). It's well set up to for conferences, functions and weddings year round, and the upstairs Portsea Deck provides an almost unrivalled setting for a toast to the bride and groom.
The Portsea Hotel is the heart and soul of the region and caters to all types – one of the few places you'll find brickies having beers with billionaires. (Although, increasingly, the brickies are the billionaires).
PORTSEA HOTEL // 3746 Pt Nepean Road, (03) 59842213, www.portseahotel.com.au
KEEPING THE BEACH AT BAY
Portsea's little strip of activity is on the bay and the town's houses stretch across to the back-beach surf spot on the other side of the peninsula. It's temptingly easy to just laze about on Portsea's shores – but, apart from wetting a line, walking the old pier at Front Beach or eyeing off the fantasy-priced bathing boxes at Fishermans Beach (think $200,000-plus), the town offers bucket-loads of action on and under the water.
Local company Bayplay has its fingers in many pies, offering all things aquatic – diving, snorkelling, sea kayaking and more (they even throw in decent onsite lodgings upstairs). Dive Victoria is a professional outfit with a fleet of boats taking divers out to weave among wrecks, as well as with seals and the elusive weedy sea-dragon.
Sail Sorrento offers a unique aspect of the coastline with pleasant yacht tours, as well as more hairy trips near the treacherous Rip, the tight, thundering stretch of water between the Mornington and Bellarine Peninsulas, and interesting birdy tours to Mud Islands closer to the heads of Port Phillip Bay. If asked, Captain Kerry (the Salty Dog!) will also point out the well-heeled houses of the rich and famous lining the shore.
BAYPLAY // 3755 Pt Nepean Rd, (03) 5984 0888, www.bayplay.com.au
DIVE VICTORIA // 3770 Pt Nepean Rd, (03) 5984 3155, www.divevictoriagroup.com.au
SAIL SORRENTO // 22 Dundas St, Rye, (03) 5985 6559, www.sailsorrento.com.au
STAYING IN PORTSEA
For those who can't afford a cliff-top chalet with a helicopter pad (like Lindsay Fox), Portsea offers a few decent options for visitors wanting to stay for a weekend or more.
Local estate agents RT Edgar and Kay&Burton have a range of rental properties available year round – but be prepared to pay mortgage-sized rates. One example, a six-bedder with tennis courts and views to both the bay and the ocean, farms out at around $1200 a night during summer. But, when in Rome and all that.
The Grange at Portsea Village is a conference and accommodation centre with more than 20 spacious and well set up apartments – a smart option for those getting married at the pub. The Portsea Hotel also has comfortable country style rooms for up to 60 guests.
RT EDGAR // Pt Nepean Rd, (03) 5984 4500, www.rtedgar.com.au
KAY&BURTON // 3741 Pt Nepean Rd, (03) 5984 4744, www.kayburton.com.au
THE GRANGE AT PORTSEA VILLAGE // 3765 Pt Nepean Rd, (03) 5984 8484, www.grangecc.com.au
A EUROPEAN VACATION
The main drag in Portsea isn't much more than a few shops, an art gallery and a hair salon. Eating is limited to the pub's busy (but quality) bistro or the pub-owned Produce & Café Wine Bar next door. But outside of Portsea, in funky Sorrento and beyond, there's enough incredible European-inspired food and wine to make a gourmand giddy.
Stillwater Restaurant at Crittenden Winery is a standout place to eat and drink in style. The delicious restaurant is set on the wonderful winery right by the cellar door. They also offer private accommodation on the lake. Red Hill Cheese is a boutique outfit with a range of handcrafted cheeses made onsite to complement the region's many wineries. Don't leave without asking about their trademark designer D'Vine cheese.
STILLWATER AT CRITTENDEN // 25 Harrisons Rd, Dromana, (03) 5981 9555, www.stillwateratcrittenden.com.au
RED HILL CHEESE // 81 Wiliam Rd Red Hill, (03) 5989 2035, www.redhillcheese.com.au
A GOOD WALK SPOILED
People have been bashing balls at the Portsea Golf Club for a very long time. A natural extension of a coastal national park, the club, home to the Portsea Pro-Am, is an undulating links course set in a lovely location, with a long history dating back to 1923. An early morning round ($45 for 18 holes) on this often-challenging paddock comes highly recommended – and with low rainfall and a temperate climate, they say this course never closes for play.
PORTSEA GOLF CLUB // Relph Avenue, (03) 5984 3521, www.portseagolf.com.au
AT THE POINTY END
Portsea is right down near the very end of the Mornington Peninsula, and just past the village is the end of the line: the pretty Point Nepean National Park, an old military zone still littered with the odd explosive yet to detonate. The National Parks people hold tours (ask for Fraser), and for those feeling active it's a fantastic 12km wander or cycle among the trees and old military fortifications from the 1880s and Great Wars. Of particular interest is of course Cheviot Beach, where Harold Holt took his infamous last swim in 1967.
POINT NEPEAN NP // End of Pt Nepean Rd, (03) 5984 4276, www.parkweb.vic.gov.au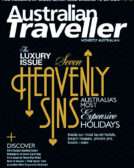 Enjoy this article?
You can find it in Issue 22 along with
loads of other great stories and tips.