Winning nosh and a remarkable restoration open day. 
Giving Sydney's Quay a run for its money in the best-restaurant stakes, Victoria's Royal Mail Hotel has been voted Restaurant of the Year by the Age Good Food Guide.
It's only the second time in the guide's 31-year-history that a regional restaurant has taken top spot. The guide's editor Janne Apelgren describes chef Dan Hunter's menu as being worthy of a "culinary pilgrimage".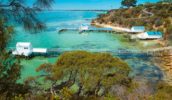 It's also another reason why we feel a strange craving for a bush break in Dunkeld. If you have that hankering too, you might want to head out to Mt Sturgeon Homestead's Open Day on October 23, or enter our comp to win a night's accom. royalmail.com.au