There's a lot to indulge in around Victoria's Southern Grampians region, writes Elisabeth Knowles. Not all of it involves food, but as you know the best travel experiences often do.
THERE IS MORE TO DUNKELD THAN THE ROYAL MAIL



There are two things you should know about Dunkeld: one is that it's a cute little country town in an amazing location at the foot of Victoria's Southern Grampians, making it well worth a visit for its hiking trails, scenic lookouts and pretty mountain vistas. Two: the restaurant at the Royal Mail Hotel really is as good as everyone says it is – ie, absolutely gob-smackingly amazing, a tourism destination in its own right, and well-deserving of its reputation as "Australia's El Bulli". If you're a nature lover, make sure you visit the Grampians in your lifetime. If you're a food lover, you need to visit now.

As towns go, Dunkeld is rather unassuming. On one side of the main street (the Glenelg Highway, aka Parker Street) there's a gourmet deli, an open-by-appointment art gallery and an old-and-rare bookshop, which is run by two cricket-loving ladies and their miniature dog.

On the other side of the road, the Royal Mail's curved art-deco façade creates a striking visual landmark that doesn't quite hint at the excellence lurking within. It was awarded the 2011 Age Good Food Guide's Restaurant of the Year, and it has won Gourmet Traveller's Regional Restaurant of the Year for the last three years in a row.

A block or so down the street, Dunkeld's newly renovated Visitor Centre is manned by community volunteers keen to tell you there is more to their town than just the Royal Mail. There's the Arboretum, for example, a living museum of exotic trees planted around a pretty series of duck-adorned ponds, complete with an old wooden pier and a romantic, rickety whitewashed bridge. A two-kilometre walking track encircles these ponds, which is in turn circled by every local and their dog.

For more active types, there are day walks, distance cycling, horse riding and rock climbing.
A BIT OF BACKGROUND



Wherever you are in Dunkeld, one of the Grampians looms – specifically Mounts Sturgeon, Piccaninny and Abrupt, the last three mountains in the Southern Grampians' Serra Range. Mt Sturgeon is the biggest, most aggressively craggy-faced and impressive of the three. It dominates a landscape of otherwise flat farmland, which is populated by flocks of daggy or just-shorn sheep, and marauding mobs of eastern grey kangaroos. This is one of those pioneering Australian regions that found wealth "living off the sheep's back", but now local farmers are more likely to make their living from lamb than wool.

It is difficult to discuss Dunkeld without referring back to the Royal Mail. One of the largest sheep stations in the area is run by the Dunkeld Pastoral Company, the family business of Dunkeld-born lawyer Allan Myers QC, the owner of the Royal Mail and a passionate community advocate.

Part country pub, part fine-dining destination, part standard-hotel-cum-luxury retreat, the Royal Mail lies at the heart of the town not just geographically, but in a socioeconomic sense. It's where locals come for a beer and a game of pool, and it's where many find employment. As well as the pub, restaurant, bistro, hotel rooms, garden villas and freestanding apartments that comprise the Royal Mail property on Parker Street, there is also a satellite property up the road, just out of town, at the base of Mount Sturgeon. This more secluded estate has self-catering bluestone cottages and a grand historic homestead.

There's also an olive orchard, the restaurant's off-site kitchen garden, which includes an organic heirloom vegie patch (chock full of Jerusalem artichokes when we were there), and a captive breeding programme for endangered native wildlife, such as squirrel gliders, long-nose potoroos and eastern quolls.

The Royal Mail makes its presence felt.
WHEN YOU'RE DONE EATING…



There isn't all that much to Dunkeld, but that is part of its small-town charm. Once you've had a spin around the Arboretum, hiked a few nature trails, sat on a deckchair staring at Mount Sturgeon, perused the bookstore, hardware store and shop-front art gallery, checked out the community mosaic, chatted to people in the Visitor Centre, sat in front of the log fire at the pub, bought a good coffee from the Gourmet Pantry café, gone on a private guided tour of the Royal Mail's cellar with the sommelier, and revelled in the degustation, chances are you'll want to get in the car, go for a drive, then get out and stretch your legs.

Thirty kilometres from Dunkeld lies the town of Hamilton. It's home to the Ansett Airlines museum, a Botanic Gardens that dates back to the 1870s and lots of great little shops. There's Baimbridge Antiques for ornate antique jewellery, the arts-focused Bellscourt bookshop and a clutch of boutiques and design stores. The recently opened Hope & Co on Gray Street sells a great selection of 20th Century Modern chairs. Particularly worth a look is the lovely handmade crafts shop Hazel Green, which holds knitting workshops and stocks beautiful yarn, quilts and linen. There's also Hamilton Regional Art Gallery, which is currently celebrating its 50th birthday and has a vast collection of oriental porcelain, Scandinavian glass and 18th century watercolours, which was bequeathed to the community by wealthy local residents.

A roam around Hamilton will invariably end up at Darriwell Farm, a series of interconnecting shops that includes a gourmet providore, a deli, a champagne-and-oyster bar, a cellar door for local wines and an excellent regional café that serves dukkah-encrusted local lamb chops and a great chicken-and-chorizo risotto.

Fifty-three kilometres north of Dunkeld, Halls Gap is a sweet mountain town tucked in a scooped valley in the thick of the Grampians. The town is popular among tourists not only for its magic setting, but for its gelato shop. Nearby, Aboriginal cultural centre Brambuk tells the dreamtime legend of Gariwerd (the traditional name for the Grampians).

Dunkeld is also just 90km from Port Fairy, so you could squeeze in a daytrip to the beach if you wanted. But if I were to return to the Grampians, I'd be quite happy to curl up on the sofa with a good book until dinnertime.
FOR MORE INFORMATION on where to stay and what to do in Dunkeld and the Southern Grampians, go to www.visitvictoria.com.
• NOTE: Access to hiking trails is currently limited due to recent landslides, but there are still many scenic walks to enjoy. For information on which tracks are closed, call Parks Victoria Information Centre on 13 19 63 or visit the Dunkeld Visitor Centre on Parker St.
HOW TO GET THERE



FOR A SHORT BREAK



• Sharp Airlines regularly flies into Hamilton from Melbourne's Essendon Airport (10 minutes from Tullamarine). One-way flights start from $155. 1300 556 694; sharpairlines.com.
• Drive 253km west of Melbourne via Ballart, then take the Glenelg Hwy (three hours).
FOR A LONGER STAY



AT recommends a week-long foodie road trip along the Great Southern Touring Route. Head from Melbourne to Port Fairy along the Great Ocean Road then loop back inland via Dunkeld, Ballarat and Daylesford. Stay a couple of nights on the coast, at Lorne, Apollo Bay or Port Fairy, (when in Port Fairy, dine at Portofino on Bank). Spend at least two days in Dunkeld so you can experience the Royal Mail's Restaurant and Bistro, and hike the Southern Grampians to walk it all off. Then stay a night (or a few) in Daylesford to eat at the Lake House (and Sault and Mercato). For help planning your road trip, go to www.greatsoutherntouring.com.au.
DUNKELD'S TOP TABLE



There are three ways to dine at the Royal Mail: in the Pub, for chicken parmigiana; in the Restaurant, for executive chef Dan Hunter's phenomenal tasting menu; and in the Bistro, which bridges the gourmet gap between pub grub and fine dining.

The Bistro serves simple, almost peasant-style dishes using seasonal produce, created in the same kitchen as the degustation menu. I had a great meal there: an entree of delicious smoked eel ($24) followed by a main of suckling pig with nashi pear, garnished with nasturtium leaves ($40). But the degustation menu takes regional cookery to another level – seasonal produce is deconstructed, reconstructed or simply celebrated with modern cooking techniques and unexpected ingredients.

For example, says Dan, "The texture of the pistachio dessert is dense and creamy thanks to pharmaceutical-grade edible clay, which is used in tablets like Panadol. Homeopaths use it as a digestive, which is why we include it in the last dish of the night."

In the Fallen Fruit dish, quicklime is used to give a "baked and boiled" apple a false skin, forming a caramelised crust that contains a pureed centre. "It's nothing more than an apple laying decomposing in an orchard," says Dan.
It's not all about technical trickery – heirloom carrots in the lamb dish are served raw. Dan says they are so good pulled straight from the ground that the kitchen doesn't need to do anything but wash them. They are the best, most carroty carrots I've ever tasted.

I often expect fine-dining establishments to be stuffy and uptight, but eating at the Royal Mail is just plain fun. Powdered beetroot seems to fizz on your tongue, mandarins burst in your mouth and, on the vegetarian menu, a Jerusalem artichoke (which looks for all the world like a hard knob of ginger), spurts creamy cheese filling when prodded with a fork. Synchronised waiters deliver each course with a flourish, and the open kitchen is fascinating to watch – it's surprisingly measured, calm and seemingly ruled by hand signals.

The real showmanship comes from the meals, which are designed to engage all the senses – even sound is considered (there's a lot of crunch, courtesy of grains). And it's not just about physical sensations. Dan says emotion is key to the enjoyment of a dish, too.

In the case of the AT team's meals, our art director, Drina, loved the foamy oyster dish most. She grew up on a yacht, and said it looked to her like "a wave had washed over my plate". For me, a chamomile infusion reminded me of a summer I spent in the Basque Country, where a friend's grandma dried bunches of chamomile to make tea. It's amazing that such a simple flavour could so strongly recall a memory I hadn't thought about in years. But it's just that kind of personal connection that inspires Dan to create:

"There's not a part of the day when I'm not thinking about how something can work in a dish," he says. "I'll be walking down the street and experience aromas and somehow it'll get transformed into a dish. I take things in through sight, smell, tastes, experience, and they all get turned into food. Most people converse about their life experiences – I share mine through food."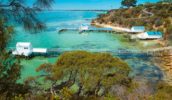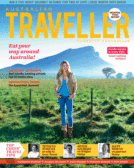 Enjoy this article?
You can find it in Issue 40 along with
loads of other great stories and tips.