One Australian Traveller reader's run-in with the theme park from hell . . .
A little while ago, AT received a letter from a concerned mother detailing her and her family's rather dodgy experience at the Ned Kelly's Last Stand Show in Glenrowan, Victoria. I immediately contacted Bob, the manager of the show, and told him that I'd received this letter and would fax him a copy if he'd like to make comment. Bob indicated that he would reply to the rather lengthy letter, but he never did.
Some months have passed now, and we've decided to go ahead and print the letter in full here and let you be the judge. Who knows? Perhaps you've had a similar experience at the Ned Kelly's Last Stand Show – or even another "great Australian attraction" altogether – and can tell us all about it.
LETTER BEGINS:
On our way home to Melbourne following a two-week driving holiday to Qld, we decided to finish off by treating our children (aged five, eight and ten) to the Ned Kelly Last Stand show in Glenrowan. The "gentleman" (I use this word with tongue in cheek) assured us everyone loves the "new" sound and light show he'd just finished and gave us a "special deal" of two adults and two children, allowing one free child (upon reflection, youngest was free anyway?!)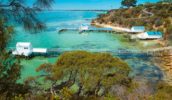 So, our $60 credit card processed, we proceeded into the show only to have my five-year-old son cry hysterically that he was scared and it was too loud (it was for me too) and another child (not part of our family) also crying and being taken out by her father, so I too left and tried to calm my son down outside.
Only a couple of moments later, the other group with us (mum and two kids) were outside with us, followed closely behind by my husband and two daughters, one sobbing her heart out!
A total of five minutes spent in "the show" and two out of my three children (together with the other family's three children) all crying, we proceeded back to the counter to receive what we thought an obvious refund. I was told by "the man" that he had to run the show with no-one in it and he'd never had a child leave (wow, two families at the one show were the first ever?!).
After a slight discussion, he begrudgingly gave me $14 and the proceeded to take me outside and read the board saying children may find the show "loud" and should be accompanied by adults. He then walked inside telling possibly the whole street quite loudly that I was full of s***(!?) and many other choice things! We of course quickly left as my children really didn't need to see or hear behaviour like that.
As a "normal" family on a "normal" family day out I cannot express how deeply one man's arrogance has ended our holiday on such a sour note and affected my children (who are still talking about the horrible man that made mummy cry).
I can assure you all I will make sure I tell everyone I can what an awful experience we had and to never make the effort to go to "Ned Kelly's Last Stand" show in Glenrowan!
LETTER ENDS
What do you reckon? Sitting in the Big Chair at Australian Traveller Magazine, I tend to receive many letters of this kind – whether it's poor service at a restaurant, a severely run-down resort, or even rip-offs or consumer difficulties with major airlines.
So if you've been to Ned Kelly's Last Stand and can add to – or detract from – this letter of complaint, sign in to the AT Website and let us know with a comment below.