A Reader Recommends column on the Hotel Queenscliff in Victoria Reader Recommends . . .



AT readers Pauline Schep and Suzanne Gourluck – mother and daughter, both primary school teachers – provided us with two very different perspectives on two very different Australian locations. Pauline reckons Quorn is the best place she's ever stayed, but Suzanne holds a place in her heart for a very special hotel . . .


Suzanne Recommends . . .
The Queenscliff Hotel
16 Gellibrand Street, Queenscliff, Vic
(03) 5258 1066 or www.queenscliffhotel.com.au


In the Victorian seaside town of Queenscliff, along the foreshore overlooking the bay and the entrance to The Rip, stands my favourite hotel, where the fashionable and wealthy spent lazy summer holidays in the 1900s.




I've long been addicted to the aged Queenscliff Hotel's beauty and grandness from an era past. Many times I've entered the foyer envious, imagining I was arriving as a guest. The night I got engaged I dined in elegance there, but plans to stay for my wedding night were dashed due to a minimum stay policy. Fifteen years passed – my desire still strong – until one special day it became reality . . .




My 20th Century senses are overloaded as I climb the front steps and admire the ornate wrought iron lace and deep, cool verandas. Beyond, I glimpse the magnificent 1887 interior as I step into the wide entrance hall. I'm in awe of the craftsmanship surrounding me.




My pace is slowed to a stop to admire the huge central flower arrangement dominating an antique table. Tessellated tiled floors boldly shout their presence and beautiful stained-glass doors and windows beg my approval, too. The ceiling soars, and rich heritage colours gently draw my eye into the elegant sitting rooms where I spy chaise lounges and fireplaces. The central foyer demands my whole attention. It's only with great difficulty that I eventually attend to the gentleman behind the desk as my husband checks in. Finally, I shall be a guest in this age-old place I have admired since childhood.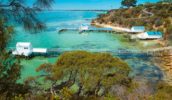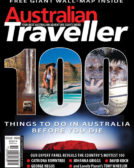 Enjoy this article?
You can find it in Issue 8 along with
loads of other great stories and tips.