You know you're in good hands when you show up at your accommodation a full two hours before official check-in time, and you're welcomed with a cup of coffee and a biscuit instead of a scowl and a "see ya later".
I'm in Rutherglen for a wedding, having flown into Albury from Sydney on the 7.50am Rex flight. Not thinking once to check the time, I'd hopped in a hire car and driven straight to Renaissance Farm B&B.
The countryside here is all wineries and farmland. When I turn off the Murray Valley Highway onto the one-lane-wide Boorham East Rd, I am stopped by a flock of sheep, which are being herded up the street by a woman on a quad bike with a cattle dog on the back. I have time to take a photo, but still don't think to look at the clock.

I know I've arrived at the B&B when I spot the Renaissance Chocolates factory next door. The owner of both enterprises, Neil Funston, meets me at the farm gate with apologies that my room hasn't been made up yet because the previous night's guests have only recently departed. He offers me a coffee and introduces me to his dogs – a graceful old dalmatian called Sam and an attention-loving, curly-coated Murray River retriever called Rowlf. Dogs now befriended, I sit in a wicker armchair on a verandah overlooking an English-style cottage garden, complete with white roses and colourful drifts of long-stemmed flowers. Neil's wife Robyn is an avid gardener and it shows.

It isn't till I am halfway through my coffee that I realise my error. It's guests like me who cause undue stress to boutique business owners – "Hi, I'm here, ready or not!" – but it's flexible boutique business owners like Neil who guarantee return business.

The Renaissance Farm experience is like staying at a favourite great-aunt's place – it has the cared-for ambience of a long-standing family property. Everything has that settled-in look of an established country cottage, complete with gorgeous period touches such as stained-glass windows, tie-back curtains and decorative timber-framed screen doors (there are a few flies around, but this is summer, it is Australia, and that's what the Aerogard in your room is for).

The B&B accommodation is in a converted outbuilding between the homestead and chocolate factory. It features two little studio-style rooms, each with its own private, lavender-filled courtyard out the back. Mine, the Apera room, features a romantic canopy bed and a claw-footed freestanding tub. In the kitchenette I find a small plate with two-handcrafted chocolates on it, next to a carafe of muscat and two shot glasses. Coming alone has its benefits: I eat both chocolates and later enjoy two homemade Anzac cookies with a cup of tea – the muscat can wait till later.

Country cooking is also apparent in the breakfast menu – Neil's homemade conserves accompany the toast. I try the quince jam and a blood-orange marmalade during my two-day stay, and I'm surprised to find the breakfast menu has a different two-choice option each day. On day one I order Renaissance eggs – perfectly poached eggs Benedict with a creamy hollandaise sauce. Day two, I choose the strawberry pancake stack. Delicious.
Often, B&Bs forget that they are judged on two fronts – they are, after all, about the beds and breakfast. Renaissance Farm's rooms are romantically cocoon-like and their breakfasts are outstanding; the owners do a wonderful job of making guests feel welcome.

At first you may be disappointed to find the farm is situated a little way out of town – about ten minutes from Rutherglen town centre. But you don't come to the country to stay in the thick of things. It's still close enough to make the perfect base for a wine tour, and the way this place is set up gives would-be tree-changers plenty to fantasise about. Robyn and Neil have made a wonderful self-sustaining life for themselves in Rutherglen. And we're lucky enough to be able to share it.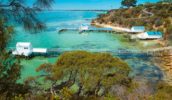 By Elisabeth Knowles
DETAILS:
Where Renaissance Farm B&B, 507 Boorham East Rd, Rutherglen, Vic.
Notes $350 for a single for two nights (Fri/Sat) for bed and breakfast; $410 for a couple. A four-course meal can be ordered in the homestead or delivered to your room for an additional fee and if ordered in advance.
Contact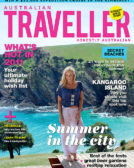 Enjoy this article?
You can find it in Issue 36 along with
loads of other great stories and tips.