Australian Traveller reader Susan Stephenson heads to Victoria's Dandenong Ranges and gets lost among the clay sculptures and swirling ferns at William Ricketts Sanctuary

Melbourne can satisfy the most cosmopolitan of appetites. You can tantalize your tastebuds at farmers' markets, wander from pub grub to posh nosh, or eat your head off for months on Lygon St without choosing the same restaurant twice. But if you need spiritual nourishment, go to William Ricketts Sanctuary.
Less than 50km from Melbourne's centre, between Montrose and Olinda, the sanctuary at Mount Dandenong was William Ricketts' home for more than half a century. Here he created a masterpiece like no other; among stands of tall mountain ash, Ricketts sculpted Aboriginal figures from clay, kiln-fired them and built grottoes and pathways to showcase them.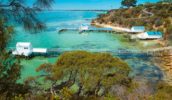 As soon as my husband and I entered, walking between two moss-covered rocks surmounted by ancient, wise faces, we knew this was a special place. I darted from sculpture to sculpture: Les, look at this one . . . Les, take a photo of this, it's stunning . . . oh, wow, come and see this, Les!
Dragging Les by the camera strap around his neck, I raced along the winding path between the ferns. At last, both out of breath (one strangled) we collapsed onto a stone bench near a small cave, carved like an altar from the hillside. Looking through its arched entrance, we saw inside the inner chamber a serene and wise clay figure that seemed to grow from the mossy rock. Backlit by pale sunbeams and framed by dripping ferns, he sat cross-legged, gazing out over his domain. Our domain.
Water trickled from tiny fountains down miniature gullies. In many of the nearby sculptures we could also see concentric circles, so important to Ricketts' beliefs, symbolising the everlasting home of the Central Australian Aborigines, Pmara Kutata. The curl of a frond echoed the curve of a laughing child's cheek. That same curl was found in a lizard's tail, a lyre bird's feathers, within vines and creepers and in tendrils of beard curling onto an elder's chest.
Ricketts was passionately opposed to the destruction of the Australian bush. Many of the inscriptions he carved into clay reflect his philosophy that "all living things everywhere are forever one with us." He believed, too, that we all need to act as custodians of the land in the same way the traditional Aboriginal people did.
This necessity for a positive relationship between man and his environment seeped into our consciousness at the sanctuary. I'm not religious, but I felt a profound connection with the sculptor's use of creative force to bring his message to life. Ricketts had the imagination necessary to dream the plan, to carry it out and to leave behind an unforgettable legacy.
Nearby, a magpie carolled, the notes so high and pure it made our blood sing. "Just imagine," I whispered to my husband, "the kind of man he must have been. Look at the faces . . . the ferns . . . the fountains. I wish we had something like the Earth Mother over there, with her babies, among the ferns at our place. Can you make me something like this for our garden?"
Les looked at me and smiled. "Not today," he said. "I'm hungry. Let's go and have lunch."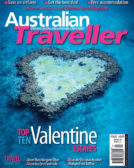 Enjoy this article?
You can find it in Issue 7 along with
loads of other great stories and tips.