AT reader Daan Spijer from Mt Eliza has had a 40-year love affair with Halls Gap in the Grampians. The region has survived bushfires, and more, to remain one of Australia's prettiest.
Halls Gap is one of those magical places you expect when travelling in Australia. It's not so much the town itself as its situation. It lies in a gap between two northern arms of the Grampians in western Victoria, at the head of a lush valley. You get the true picture from Mt Difficult Lookout, whick has views of the Fyans Creek valley and Lake Bellfield.
I've been going to the Grampians since seeing it as a teenager on the way from Melbourne to Adelaide in the 1960s. You first see the blue mass on the horizon as you approach Ararat, but it displays its true majesty past Ararat. Returning from Adelaide, after you've passed Horsham, the mountains look quite different. Instead of a steep cliff, you see mountains sloping up from the plain. However, it's wandering through the Grampians that you see their true beauty.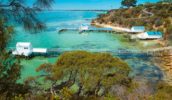 Making Halls Gap your base, you can drive anywhere in the almost 100km-long range, walk for hours and return to your lodgings. You can also do many day-walks from Halls Gap on tracks, coming onto outcrops with views that stay with you forever.
When our family first "discovered" Halls Gap, it was small and quaint. Now it's unrecognisable, with the growth of the commercial area and population. The facilities have been modernised, and although it's still a beautiful place to pitch a tent, there's accommodation including backpacker and luxury motels.
"Out of the bush stepped a male deer with huge antlers. I was almost ready after that to come face to face with the black panther reputedly living in these mountains."
One fairly recent addition has been the Brambuk Living Cultural Centre. It has presentations honouring the Aboriginal people who once inhabited the area. They are also acknowledged by the renaming of the Grampians to "Gariwerd".
Camping in Halls Gap I had one of my most memorable experiences. I was there in around 1973 in a small tent. After years of family visits, we'd grown friendly with the owners of the Mountain Grand guesthouse – an imposing place, with a lounge featuring a huge bay window and grand piano.
After two days camping, the sky was darkening. That evening I made sure nothing was touching the tent walls and snuggled into my sleeping bag. Around midnight, there came a "knocking" at the tent door. I unzipped it and looked into the face of one of the owners of the Mountain Grand. "Mum says you should stay with us. There's going to be a doozy of a storm soon and you could get washed out."
I argued that my tent could withstand anything. But, not wanting to offend, I got dressed and followed the owner to the guesthouse, where I was given a hot chocolate and a bed.
Two hours later I was woken by swift thunder, a howling wind and deafening rain on the tin roof. Drops of water started falling, then trickling on my bed. I moved away from the worst of the leaking roof, but didn't sleep much.
The next morning, I headed back to locate what I expected would be the remnants of my tent. I had no trouble finding it, steaming in the morning sunshine. I unzipped the door – everything was bone dry!
My parents built a mud-brick house in Halls Gap in the 1970s. I spent many weeks there. I walked the length of the Victoria Valley, explored around Lake Wartook, climbed Mt William and the Serra Range, and drove through the valley then over the Mirranatwa Gap to Dunkeld at the southern tip of the range.
The vegetation is diverse, with areas of tall forest and windswept heights. There are pockets of vivid wildflowers and you might have encounters with kangaroos, wallabies, emus, echidnas, cockatoos and kookaburras. The kangaroos can be approached closely and observed as they feed at dusk.
There were many surprises as I explored. I nearly tripped over my own feet one day, walking up the Sundial Road, when out of the bush stepped a male deer with huge antlers. I was almost ready after that to come face to face with the black panther reputedly living in these mountains.
Another time, coming out of dense bush onto a sloping rocky plateau, I gazed upon a magical scene – as though someone had let their imagination go painting the place.
There was a wild collection of dwarfed native shrubs, bonsai banksias and eucalypts, all interspersed with carpets of flowers. There was also the night that a flock of emus charged over my small tent next to Lake Wartook.
In January 2006, one third of the Grampians was overtaken by bushfires. I felt as devastated as the mountains looked. Somehow, Halls Gap escaped almost totally.
The Grampians are now recovering and those looking after the park have been working hard to replace signs, rebuild paths and resurrect stairways. It's a place to visit, camp, walk and drive through that is like nothing else in this vast country.