In an earlier instalment of my Secret Spots, I walked you through the delights of Tasmania's Montezuma Falls. Trentham's is a broader, more muscular falls than Montezuma and is considered, at 32 metres, to be Victoria's largest single-drop cascade – even though the delicate, multiple-drop Dandangadong Falls near Mt Cobbler in northeast Victoria are much higher in overall altitude. Situated just over 90 kms northwest of Melbourne, Trentham Falls has far less vertical height than Montezuma's 100 metres – but Trentham's is a direct and dramatic plunge, rather than a gradual unfolding over three tiers, so it's difficult to try and rate the one over the other.
The town of Trentham lies within a comfortable cluster of pleasant rural centres – Bacchus Marsh to the south, further northwest to Daylesford and Hepburn Springs, lofty Macedon to the east – and was itself settled after that all-important first hint of gold was detected, much like historic Clunes, Walhalla and many others throughout Australia as she was finding her feet.
It appears that some time in 1854, a couple of farmers tracking stray cattle followed a meandering river's edge near the foot of Mount Macedon into the area, only to find not just their lost cows, but substantial traces of gold. Trentham, which was officially settled the following year, proved ultimately less fruitful than other mining towns of the area and of the day. Instead, the development of sawmills to provide timber for the wider goldfields formed the basis of the town's expansion. At one time there were something like 20 sawmills in operation and tens of thousands of tonnes of timber were hauled out each year via the local railway. However, the area has by no means been "felled out" in the pursuit of economic rewards: the hills surrounding the township are still heavily wooded – that's the wonderfully named Wombat State Forest region – and are riddled with superb walking trails to suit all levels of fitness and enthusiasm.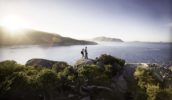 The town today, with a population a shade under 800, maintains its old-world feel through its high percentage of wooden buildings and – of particular interest to me – its old railway station, which was built in 1880 and ceased timber-hauling operations more than a century later in 1978. Even quite recently the Rail Motor Group operated out of Daylesford back to Trentham, but the track is not connected back to the main line. It doesn't have a fully restored operation like the Walhalla Goldfields Railway or the Castlemaine-Malden Railway, which is go-go-go.
The Falls themselves lie just north of the Trentham township: head initially towards Daylesford and her spa-rich region before taking a short turn-off to Kyneton to the east. You'll soon find another short turn-off to the Falls, which lie in a pleasant, heavily forested area and can be viewed from a lookout or from below, at the base. The impressive cascade is connected tenuously to the Coliban River, which exists as a major tributary more than 100 kms further north between Heathcote and Bendigo. Wineries in the region – of which Heathcote is a prime example, along with the many vineyards in the Macedon Ranges region closer by – sprung up not through coincidence; the heavy concentration of volcanic soils in the area make for fertile lands, and indeed Trentham Falls itself was the product of similar geological activities many millions of years ago.
The Falls announce their arrival by tumbling over a basalt shelf and into a wide pool surrounded by slender native eucalypts and varieties of low brush. The rich, dark greenish-black hue of quartz carpeting the bed of the pool beneath the falls can be clearly seen, and the area has been made perfectly accessible for visitors with the development of walking tracks and picnic areas. These last aren't so intrusive as to detract from the natural beauty of the spot.
When you visit, you get a real sense in Trentham of the amount of history attaching, including the forge plants necessary to produce specialised mining and farming equipment the hard way. I guess at that time, the horseshoe industry was so much needed across so much of Australia that every town had its own blacksmith plant if only for the shoeing of horses. But from that sprung bigger efforts, including the Trewhalla Jack, invented by mill-working brothers Ben and William Trewhalla in 1893. This metal-worked tool basically facilitated the handling and transport of gigantic mill logs, and was produced by the foundry in Trentham for more than a century. It was an essential part of the early agricultural days of Victoria, and indeed Australia, and remains a fascinating and absorbing element of the region.
There's great pleasure to be had in touring such towns and discovering for yourself what historic marvels abound. And considering Australia is such a dry continent, it seems to me that wherever there are waterfalls of any kind of substance, it's always an eye-opener. To that extent I certainly found Trentham Falls a wonderful spot to visit. I hope you have occasion to find out for yourself.
DETAILS: Trentham Falls
WHERE: Trentham is 92 kms northwest of Melbourne – about an hour's drive – in the Macedon Ranges and Spa Country of central Victoria. The Falls are around two kms north of the township.
BEST TIME TO GO: The Falls do flow year round, but – as you might expect – are reduced to a trickle during the summer months, so best to time your visit for autumn and spring. Even in this, a time of heavy droughts, the region has been somewhat fortunate, so the Falls are active and waiting.
CONTACT
http://www.visitvictoria.com/
http://www.visitmelbourne.com/
http://www.tourism.vic.gov.au/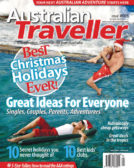 Enjoy this article?
You can find it in Issue 5 along with
loads of other great stories and tips.