This picture-perfect historic town is an ideal backdrop for a weekend getaway out of Melbourne, writes Elisabeth Knowles. There's so much more on offer than you'd expect from a town with a permanent population of just 10 residents. Why Walhalla is wonderful
Walhalla is a pretty little town in West Gippsland, Victoria, 184km south-east of Melbourne. Bordering Baw Baw National Park, it's the perfect spot for an out-of-town mini-break or weekend road trip. With no reception for mobile phones/internet and even TV, Walhalla enforces relaxation by making you turn off and tune out.
But don't fret, there's plenty of stuff to do. This charming town boasts a picturesque setting and rich frontier history. Founded in 1863 after gold was found in these here hills, Walhalla thrived until the mines closed in 1914. It sat silently as a ghost town till the 1980s, when savvy Melbournites started buying up property for holiday homes and boutique accommodation, and tourism soon began to take off. Walhalla is now home to a restored historic railway, mine and ghost tours, serene hiking tracks and the down-to-earth Wally Pub.
Even travellers with no interest in Australia's colonial past will find Walhalla worth a trip. Few other Australian mountain towns can match it for looks. Still, we'd be surprised if a traipse through the hillside cemetery, with its marble headstones, white picket fences and wild drifts of bush orchids, didn't waken your inner history buff.
Walhalla's history is well documented on information boards around town and there are plenty of fascinating relics in the local museum. Even though many of the buildings in Walhalla are replicas – caringly and painstakingly reproduced from old photos and documents – there is an authentic old-world ambience here. You don't feel like you're in a theme park because this is a living town – albeit a tiny one. It's the passionate locals who have brought Walhalla to life. Talk to them; they love their town and have great tales to tell.


How to get here 
By car. The drive takes about two-and-a-half hours from Melbourne CBD. Head along the Princes Freeway to Moe, then take the turn-off to Erica and follow the signposts to Walhalla. Driving gives you the freedom to explore interesting towns en route, such as Warragul, Yarragon and Darnum (self-proclaimed as "Australia's Only Musical Village" thanks to a great museum packed full of antique instruments).
The drive can be a bit hairy towards the end because as you approach Walhalla you share skinny, winding roads with logging trucks. But it is a beautiful trip that takes in sub-alpine forest thick with giant ferns before hitting the pretty heights of Walhalla.
Interstate folk can rent a car from Tullamarine or Avalon airports. Alternatively, take a V/Line train from Melbourne to Traralgon, and pick up a hire car there (note: you must organise this in advance). You really do need a vehicle to make the most of this region.
THE DETAILS: *Europcar // 1300 13 13 90; europcar.com.au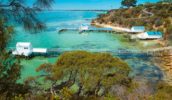 *V/Line // 136 196; vline.com.au

Things to do in Walhalla

Walhalla township is wedged into a narrow valley surrounded by bushland. Dotted along the main road are many curious buildings to explore, including the original fire station (a timber building that straddles Stringers Creek and serves as the local firies' museum). There's also a Masonic Lodge, the Bank of Victoria's gold vault, a string of gold-era shops including a museum/post office/store, the Walhalla Chronicle print shop, St John's Church, the Mechanics Institute and a restored band rotunda.

At the entrance to town, you'll find an exact replica of the original Walhalla railway station. Walhalla Goldfields Railway runs from Walhalla for 4km through the Stringers Creek Gorge, over six wooden trestle bridges and through dramatic scenery to Thomson.

To get a feel for the gold rush, go prospecting (hire a pan at The Corner Store) or take the Long Tunnel Extended Mine Tour, which takes you into a mine shaft built in 1865 and closed in 1911.

If you're more the active than antiquities type, read on.
THE DETAILS: *Day tours // Call Walhalla Museum on (03) 5165 6250 for information on day tours and activities in and around Walhalla.

*Walhalla Goldfields Railway // Operates Wed/Sat/Sun, public holidays and daily in the summer/Easter holidays, leaving Walhalla at 11am, 1pm and 3pm. Return fares are $20 per adult and $15 for kids.

For the adventurous

If you have a 4WD, take the Old Coach Rd up to Happy Go Lucky and Bruntons Bridge, or buy a 4WD map to go exploring. Alternatively, Mountain-Top Experience offers hour-long and half-day tours. You can also join a tag-along tour, the best option if you're new to the area.

Thomson River is great for trout fishing, kayaking and swimming. There's also some great mountain-bike riding – but watch out for tree roots and forgotten mine shafts.

In winter, you can go cross-country skiing from Mt St Gwinear or Mt Baw Baw on the Baw Baw Plateau. Beginner skiers will enjoy the gentle downhill slopes and snowshoeing at Mt Baw Baw.

THE DETAILS: *4WD map of Walhalla // $9.95 from www.club4x4.org.au. As well as 4WD tracks, it features fishing spots, horse, bike and walking trails and suggested attractions.

Walhalla's walks

››Self-guided walks: Walhalla township is best explored on foot, and there are nature walks nearby. A track leads from the Long Tunnel Extended Gold Mine around the hillside and back down into town along the old timber tramway, providing a leafy view over the treetops to Walhalla. The very fit can tackle the 45-minute round-trip clamber up an extremely steep hill to the original hilltop cricket pitch.

There are longer walking trails of 5-10km for every fitness level. Further afield, there are some fantastic hikes out of Erica, and the cross-country ski trails at Mt Baw Baw make great summer day hikes.

THE DETAILS: *Walks // Download a pdf of Walhalla's walks from the Star Hotel site, starhotel.com.au. For a list of walks in West Gippsland, 

››Guided walk: On Saturday nights, Walhalla ghost tours kick off from the Walhalla Chronicle office at 8.30pm (or 7.30 outside of daylight savings time). The two-hour walk is a fun way for kids to get an insight into Walhalla's bizarre past. It's fun for adults, too, and surprisingly strenuous due to the town's steep hills. Wear walking shoes. Cost: $25 adult; $18 for kids.

››Guided hike: The Great Walhalla Alpine Trail is a guided trek along a beautiful 40km section of the Australian Alps Walking Track (see below), through pristine alpine meadows and forests of snow gums and mountain ash, and alongside rushing rivers. The first and last nights are spent in comfort at Mt Baw Baw Alpine Resort and Walhalla's Star Hotel, while two full days of walking are broken up by an overnight camp-out. (Don't worry: tent and meals are prepared for you.) The cost is $980 per person twin-share, including all meals, snacks, water and accommodation. The trail is open from October to April each year.

››The ultimate hiking trail: Hard-core hikers can take on the 680km Australian Alps Walking Track in its entirety. It weaves through five national parks including Baw Baw, Kosciuszko and Brindabella, and ends near Canberra. It can take even experienced hikers up to eight weeks to complete, and is recommended only for those hikers with advanced navigational skills, as only parts of the track are marked.

Where to eat

Al fresco casual dining is on offer from 11am to 2pm daily at the GreyHorse Café, next door to the Star Hotel on Main St. Think pies, pastries and excellent coffee.

A few doors down the street, Walhalla Coffee is open early for breakfast and lunch in an original gold-era store, and is fully licensed. Alternatively, if you want to self-cater, the general store stocks the basics.

The Walhalla Lodge Hotel (known locally as The Wally) has an extensive pub-food menu with counter meals available for lunch and dinner. Chicken "parma" with bacon is a winner at about $20 a pop. The Wally is a friendly pub where locals and tourists happily commingle over beers. As you drive into town, it's on your right-hand side just after the cemetery. You can't miss it.

Parker's Restaurant at the Star Hotel is an à la carte restaurant with a sophisticated menu that changes daily. While priority is given to hotel guests, if you book ahead you can get a table here even if you're not staying (see Where to Stay for details). Entrees from $12, mains from $27, desserts from $18.

Where to stay

››Hotels: The fabulous 12-room Star Hotel is right in the centre of town. Every room has its own ensuite, and couples will appreciate the no-kids policy. Dinner, bed and breakfast packages cost $319 per couple. You get much more than a mere room when you stay here, as owner Michael Leaney is a veritable goldmine of information.

Heritage-listed Windsor House is a lovely B&B tucked behind the main street on Right Hand Branch Rd. Established in 1878, it's one of Walhalla's remaining original buildings. Each of the five rooms is unique, with one named after local gold-era lady of the night, Kitty Kane. From $160 per room per night.

››Holiday rentals: For families, The Coach House offers a great self-contained stay. $160 per night per couple, with each extra person just $20 each. Sleeps up to eight. Minimum two-night stay.

The most private romantic option is Stringer's Cottage, a gorgeous one-bedroom miner's hut on a steep hillside overlooking town. It'll be just you and the lyrebirds. $140 per night, sleeps two.

››Camping: North Gardens camping grounds are located at the northern end of Walhalla and are appropriate for tents, motorhomes and caravans. There are gas barbecues and a public toilet block for campers, but sites are unpowered and there are no showers. Camping is free, but you can't book: it's a case of first in, best spot.

What's on in 2011

March 19: Equinox Ghost Tour.

April 25: ANZAC Day Dawn Service. Over 250 regularly attend the service.

May 13: Friday the 13th Ghost Tour.

August 3: Official opening of Walhalla Vinter Ljusfest – a nightly light spectacular. Special accommodation packages are available during the festival – see visitwalhalla.com.

August 6, 13 & 20: Walhalla Goldfields Railway "Ljusfest" Express – a light train down Stringers Creek Gorge.

August 27: Walhalla Vinter Ljusfest Medieval Feast.

August 28: Ljusfest Festival closing night.

November 12: Jazz on Track – a music festival for the Walhalla Goldfields Railway.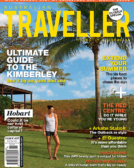 Enjoy this article?
You can find it in Issue 37 along with
loads of other great stories and tips.