With the scent of snow lacing the air, Peter Robinson explores Ned Kelly country and the snug alpine comfort of Wombat Hills.
A throng of single-minded skiers will head for the snow at Mount Buller this winter. But there are terrific places to visit in the Victorian High Country where the air is cool and fresh and you don't need to get cold and wet.
Wombat Hills Cottages have long been a favourite of mine, partly because they're located in the alpine country where so many spectacular Man From Snowy River scenes were filmed. It's many years since the two Snowy River movies screened, but they've left an indelible mark on Mansfield. (Haven't seen either? Get the DVDs; they're truly inspirational.)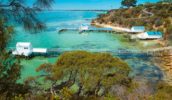 Helen and Norm Hookey's stone cottages aren't at all comparable to Jim Craig's rough movie-set hut in the Clear Hills – they're a vast improvement, thank goodness, and any horseman would be glad of a bit of luxury and a spa bath after a hard day in the saddle. Besides, the Man's wooden hut was burned down in the 2007 bushfires.
Positioned on a brow of the Wombat Hills north of Mansfield, the cottages take advantage of a vast panorama of green-tinged valleys and blue-hued, snow-capped ranges extending to Mount Buller and beyond. But it gets even better. At sunset, if it's been one of those clear winter-sky days, grab a heart-warming local red and a jacket and amble to the gazebo over the lake. There's no question this is the best seat in the house: salmon-red sky dissolves into inky blackness and the Milky Way magically appears. Now if that doesn't kindle a bit of romance, nothing will. (Reminder: don't travel here alone.)
The two studio-style cottages are built from stone quarried on-site and are designed for two; there's a couch for two, queen bed for two, spa for two and food for two. They're furnished with comfort in mind – stone floors covered by Persian rugs, a comfy bed with quality linen, open fire with plenty of cut wood, loads of breakfast goodies in the kitchen (though you must order this), and spa bathroom. Helen and Norm built the cottages a decade ago and have maintained them perfectly.
I've travelled here in winter and summer, and Helen caters brilliantly for both seasons – in winter there's a home-cooked meal ready to heat and eat, nibbles in the fridge along with wine and beer. Over summer the menu changes and you can arrange for Helen to leave a BBQ hamper of steak, honey-seared salmon or spiced chicken for dinner, plus maybe a platter of cheeses or smoked fish and olives and that sort of thing. Fresh-ground East Timor coffee is a surprisingly aromatic caffeine fix, and the selection of regional wines makes venturing to a Mansfield pub unnecessary.
It seems just about every little row of hills has its own moniker in this region – and there's no shortage of wombats here, or anywhere else in the mountains for that matter. The lazy brutes can even be found sleeping in the middle of roads, as big as a large dog, as solid as a tree trunk and as black as death on a night-time country road (so please, be careful). The property has several hectares of landscaped gardens beside natural bushland where kangaroos, echidnas and (of course) wombats roam freely. Birdlife includes the rare satin bowerbird with his collection of blue things, plus a host of other native birds.
If you venture out for a day, head north along the track to Stringybark Creek, the one Ned Kelly took before his deadly meeting with the police – which in turn led to the famous "Wanted" posters (an original is in the Jamieson Museum), the Glenrowan shootout and Ned's eventual capture, conviction and demise back in 1880. The memorial in the centre of Mansfield relates to the police shooting at Stringybark Creek.
Details // Wombat Hills Cottages
Where // Lochiel Road via Mansfield, Vic, about 2.5hr drive from Melbourne.
Phone // (03) 5776 9507
Website // www.wombathills.com.au
Rate // Starts at $195 per night mid-week for two, breakfast included. Min booking, two nights at weekends. Dinners can be ordered when booking.

Other things to do // Visit wildlife rescue centre just up from the cottages; heritage walking tour around Mansfield; visit craft shops or the main street weekend market; Delatite Winery's cool-climate wines; scenic drives to historic Jamieson and the pub brewery; hot air ballooning if you're up for the early start; Mansfield info centre (03) 5775 7000.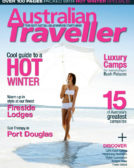 Enjoy this article?
You can find it in Issue 16 along with
loads of other great stories and tips.