How long would you last if you were stranded in the bush? Elspeth Callender didn't have much faith in her survival skills, until now…
When I was but a child, my parents stopped to help a man and his 10-year-old grandson when they flagged us down on a country road in outback NSW. Like us, they were from Sydney. Their car battery had gone flat in a remote campground and they'd been walking all day in search of help in the summer heat with shirts on their heads and no water. We were the first vehicle they'd seen.
Were they doing the right thing? Don't ask me. I've headed off on countless trips into our country's remarkable interior and dealt with the possibility of a major mechanical failure, or severe weather, or taking a wrong turn on a bushwalk, by pretty much crossing my fingers and hoping for the best. And so far so good. But luck, like a battery, does run out.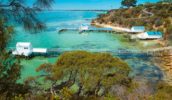 Enter Sticks and Stones Adventures, based near the Victorian town of Yackandandah, which offers a weekend of bushcraft and basic survival skills useful for anywhere from the great Australian outback to the Amazonian jungle.
"Nature provides everything we need," our guide, Charlie, explains on arrival. We're in a park-like clearing on a bush block adjoining Stanley State Forest. The rest of us (an archaeologist from Melbourne, four friends from Beechworth in need of a break from parenting and me) look at each other with raised eyebrows. We hope it can provide; all we've been allowed to bring with us is a sleeping bag, water bottle, a hat, warm, waterproof clothes, toiletries and a knife.
"People usually don't go off the tourist trail because of fear," Charlie continues. "But if you don't go off the trail, you miss out on great places." He'd know; he's been connecting with the Australian bush since he was born and, as an adult, has survived alone for four months on an island off the Queensland coast. By choice.
Before we know it he has us collecting water from trees using what's called the transpiration method, which involves sealing branches within a plastic bag to catch the water that evaporates as the plant photosynthesises. I've always wanted to know how to do that. We then pair up to make distress signals, construct sleeping shelters and build an animal trap (for when things get really desperate).
A Lord of the Flies undercurrent inevitably develops as the day goes on, with competitive banter, hogging of machetes and two guys connecting their shelters to make a bracken palace that no-one else is allowed to enter. But nothing out of hand.
The biggest challenge of that first day is creating fire using the Egyptian bow drill method, which is a very fancy way of rubbing two sticks together. Charlie, who everyone already admires, gets a flame on the first go.
When the ration packs are distributed in the early afternoon, trading begins immediately. The archaeologist can't believe I'm happy to just give her my tube of condensed milk and insists I take half a muesli bar in exchange. Thankfully, the evening meal doesn't come out of a ration pack but we have to work for it by locating an esky of goodies stashed in the bush. I've always been hopeless at orienteering and would have had a dinner of two-minute noodles and tea instead of rainbow trout and Pinot Gris if my team mates weren't onto it.
That night we sleep in the open-air under our rustic lean-tos; I snore soundly through the night on a cushy blow-up mattress. In the morning I find a few delicious-looking mouthfuls of freshly transpired water in my tree-tied plastic bag and drink it down with satisfaction that I'm really learning things.
After breakfast and a brush-up on bearings, Charlie sets us our greatest challenge for the weekend: orienteering our way through the undulating landscape to where our transport awaits us… two kilometres away.
The archaeologist and I already know we work well as a team, having established a healthy trading relationship and building the best night signal (Charlie said so). I use the compass and all my concentration. She paces it out. We're not the fastest, but we are the most accurate and emerge from the bush at exactly the spot Charlie had intended us to. At Twist Creek Base Camp we celebrate over a tasty lunch.
Now when I look back on that childhood experience, I realise that the man and his grandson were in enormous danger of dehydration. They really should have stayed with the car, made a shelter and collected water. As for my own outback adventures, finger-crossing be gone! Give me a plastic bag, a stock cube and a ball of cotton wool and I'm good.
The details
Getting there: Yackandandah is around three-and-a-half hours' drive north-east from Melbourne, in Victoria's picturesque High Country, near Beechworth and Albury. Regional Express (Rex) flies daily between Melbourne and Albury.
Staying there: A Night in the Wild runs over select weekends throughout the year for $380 per person, including all food and drinks from Saturday lunch to Sunday lunch, all transfers (to and from Yackandandah, or nearby Beechworth), survival kit and survival training. hot tip
Hot tip: Add a Friday-night stay in a safari-style tent at Twist Creek Base Camp. From $85 per person including an alfresco dinner, some bonding time with your guides and a cooked breakfast. See Sticks and Stones Adventures
MORE: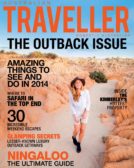 Enjoy this article?
You can find it in Issue 55 along with
loads of other great stories and tips.