Once referred to as "God's own garden," Marysville, hidden in a valley just an hour northeast of Melbourne, was utterly devastated by the Black Saturday bushfires of February 2009. Beloved for its tree-shrouded streetscapes and beautiful gardens, visitors to Marysville enjoyed exploring the hand-crafted wooden figures at Bruno's Art & Sculpture Garden (above), before stopping in at Uncle Fred and Aunty Val's Lolly Shop, famous for its old-style charm and great produce.
But as we write this, a few blackened trees and just a few buildings remain. Street signs point to places no longer recognisable. The township is irrevocably scarred by the homes destroyed and the 45 precious lives lost. A town's identity taken, but certainly not forever. When the people of Marysville returned and gathered in the Marysville Community Golf and Bowls Club, one of the few buildings still standing, they each raised their hands and vowed to rebuild.
Sergeant David Rowles from the nearby town of Alexandra was reported in the The Age on February 14: "The streetscape's still there. A lot of trees are still there, and within a short space of time, once the buildings are redone, Marysville is going to look much the same as it has in the past. It's going to be a beautiful little town."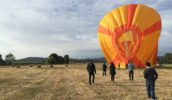 AT would like to thank all the readers who sent in their heartfelt messages of support for the town and its residents. As AT Reader Patricia Owen put it: "The whole town of Marysville welcomed its guests and genuinely applied themselves to make your stay a pleasure – a pleasure for you and for them. Now, today, I have heard it reported that Marysville is gone, and so I weep. But that spirit cannot be gone. The people of Marysville will rebuild, I am sure. Just as I am sure we will return."
Return to: the 100 Best Towns in Australia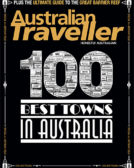 Enjoy this article?
You can find it in Issue 26 along with
loads of other great stories and tips.