Under a blazing Western Australian sun in December 2002, British installation artist Antony Gormley gazed out upon the brilliant white expanse of Lake Ballard, an ancient salt lake 55km west of the small outback town of Menzies. The celebrated sculptor had hit upon of a very curious plan.
North of Kalgoorlie, Menzies was part of the frenetic gold rush of the late 1890s and is now a virtual ghost town. When Gormley arrived, he had an ambitious sculpture project in mind to mark the 50th anniversary of the Perth International Arts Festival. First he sought permission from local Aboriginal people for the use of almost 10km2 of the barren salt lake. Then he approached the citizens of Menzies and, after some persuading, spent the next six months capturing digital scans of 51 of them – completely naked. These scans were then reduced in size by two thirds, cast into moulds, and transformed into 51 bizarre stainless steel sculptures that somehow contrived to represent their subjects' innards. The strangely extraterrestrial figures were then placed at intervals across the blank canvas of the million-year-old salt lake, making for an extremely eerie and effective installation, especially at dawn and dusk.
A book of the entire painstaking process has since been published, called Antony Gormley: Inside Australia.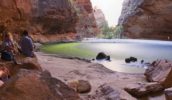 WHERE // Menzies is 726km east of Perth and 132km north of Kalgoorlie. Lake Ballard itself is 55km west of Menzies. Call the Menzies Shire on (08) 9024 2041 or check out www.menzies.wa.gov.au for more info.
DID YOU KNOW? // The installation was originally to be 100 figures, but the project ran over budget. It was also supposed to be removed in 2003, but proved so successful that it remains to this day as a drawcard for local and international visitors.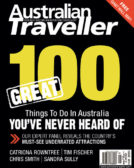 Enjoy this article?
You can find it in Issue 14 along with
loads of other great stories and tips.