How many people knew there was a country existing independently within mainland Australia? On April 21, 1970, the Principality of Hutt River was formed after seceding from Australia. When you arrive there, you'll most likely be greeted by one of the members of its own Royal Family. It may be HRH Prince Leonard or HRH Princess Shirley, who'll be happy to give you their own personal tour of the province and answer any questions: such as "How did all this happen?" (a disagreement with the government over wheat) and "What happened on December 2 1977?" (Hutt River declared war on Australia following further disputes with Canberra).
However, with the newest addition of the Pyramid of Hutt (devoted to Pyramid Energy) you can be sure the principality is more interested in peace and all things spiritual rather than war. You're welcome to energise yourself in the centre of the pyramid, which is known for its ability to heal and improve sleep, making this a truly relaxing and revitalising place to visit.
WHERE // 595km north of Perth, comprising of some 18,500 acres of land. Check out www.hutt-river-province.com for more info.
DID YOU KNOW? // The Principality of Hutt River has its own stamps, currency, visas and drivers licenses, so remember to take your passport with you on your visit so you can get it stamped.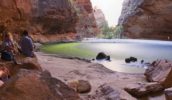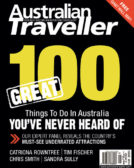 Enjoy this article?
You can find it in Issue 14 along with
loads of other great stories and tips.