John Lane holds the official Guinness record for the largest stubby holder collection in the world – and all of exclusively Australian origin.
It's an idea only an Aussie could possibly have come up with. John Lane, former owner of the Beverley Hotel in the WA town of Beverley east of Perth, holds the official Guinness record for the largest stubby holder collection in the world – all of exclusively Australian origin. In his ten years behind the bar at the Beverley, his collection swelled to gigantic proportions, with Guinness recording a whopping 516. But that was several years ago. Lane's collection now comprises well over 800 decorative pieces, advertising everything from strip joints over footy clubs to local businesses.
He began to gain something of a reputation in stubby holder-collecting circles, as people would journey from far and wide to the Beverley to trade some rarer pieces with the unchallenged doyen of handheld beer cooling devices. Lane proudly displayed his quintessentially Australian memorabilia – what he calls beer wetsuits – in ceiling-high glass cases. But, since his retirement in 2005, he hasn't been able to come up with any other use for them. So, good news for someone out there, he's now on the hunt for a fellow stubby holder enthusiast to acquire his entire rare collection and continue the legacy. Are you that person?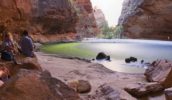 Where // Beverley is around 130km east of Perth on the Avon river. If you're in the market for an 800-strong stubby holder collection, give John and Gladys Lane a call on (08) 9646 1306.
Did you know? // In 2005, limited edition stubby holders with the slogan "Free Schapelle" were distributed by Corby's supporters to support her fight for freedom. These are now considered collectors' items.
SEE THE FULL LIST: 100 Things you can only do in Australia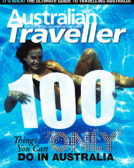 Enjoy this article?
You can find it in Issue 20 along with
loads of other great stories and tips.