Words by David McGonigal.
A look at the map shows that it's not too hard to plan a Kimberley road trip.
Your trans-Kimberley options are either the Great Northern Highway or the Gibb River Road, or ideally both. From Broome, the Great Northern Highway passes south of Derby and through Fitzroy Crossing, Halls Creek, Wyndham and Kununurra before becoming the Victoria Highway and continuing on to Katherine and Darwin. It's just over 1000km from Broome to Kununurra. The renowned 700km back-country journey along the Gibb River Road begins outside Derby to the south-west and ends near Wyndham.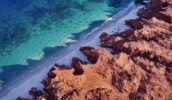 Then there are the side trips: north from Broome to Cape Leveque, south from Halls Creek to Wolfe Creek Crater, out to Purnululu National Park and the big one up to Kalumburu and/or Mitchell Falls.
North of Broome, the dirt road up the Dampier Peninsula passes by the Aboriginal communities of Beagle Bay (have a look at the pearl-shell altar in the church), Middle Lagoon and Lombadina before arriving at Cape Leveque and One Arm Point.
Cape Leveque is a drawcard in itself: sunset here turns the blood-red ridge behind the white beach crimson. The Aboriginal-owned resort of Kooljaman is special too, whether you bring your own tent or stay in any of the five other levels of accommodation.
Purnululu National Park has the wonderful orange-and-black-banded beehive domes of the Bungle Bungle Range. It's only open April to December and the rough 53km access road can only be negotiated by 4WD vehicles and single-axle off-road trailers. There are no shops in the park but there are scenic flights.
The Gibb River Road heading east from Derby passes the grand new Mowanjum Art Centre and the old Derby Leprosarium on the way to the turn-off to Windjana Gorge and Tunnel Creek, reached via a road that leads back to the Great Northern Highway. Past visitors will be surprised to find most of the road to the turn-off is now sealed.
Like Tunnel Creek and Geikie Gorge, Windjana Gorge cuts through the ancient coral reef of the Napier Range. The photogenic gorge is best seen on a 7km return walk along the pools of theLennardRiver, which stops flowing in the Dry. Tunnel Creek was once the hideout of the Aboriginal rebel leader Jandamarra or Pigeon, who was shot at the tunnel entrance in 1897. A 750m walk through the dark tunnel takes you from one side ofNapierRangeto the other, passing bats, stalactites and even, possibly, freshwater crocodiles along the way.
The Gibb River Road is a grand outback experience, and its swimming holes, stations (some with accommodation) and campsites are unforgettable. The road has improved a lot and is declared open in April or May after the rivers have dropped and Main Roads has sent graders to repair the ravages of the Wet.
The gorges you'll encounter include Lennard,Bell, Adcock, Galvans, Manning and Mt Barnett. Some 400km along the road is the turn-off to Kalumburu and the Mitchell Plateau. The 270km road to Kalumburu is only slightly worse than theGibb River Road, but the track toMitchellFallsis considerably worse. Fuel and supplies are available at Drysdale River Homestead and Kalumburu. The turn-off toMitchellFallsis 160km along and it's a further 85km to the falls.
Go wild
If you'd rather sit back and let someone else do the driving, consider taking a group tour. Kimberley Wild has won gold at the Western Australian Tourism Awards three years in a row, recently taking out the 2010 Best Tour Operator. The company runs day tours, short breaks and longer adventures throughout theKimberley. They have a new tour for 2011, which is a nine-day Wild Kimberley Loop, departing from and returning to Broome, which includes two nights at El Questro and two in the World Heritage-listed Purnululu National Park (otherwise known as the Bungle Bungles). Cost: $1995 per person, less for concession holders and kids.
Kimberley Wild // 1300 73 88 70; kimberleywild.com.
When to visit
Dramatic tropical seasons epitomise theKimberley. In the Wet, humidity is very high and the rivers are flooded – it's spectacular from the air as the waterfalls are in full force. The approach of the wet season from October onwards is marked by rising heat and unbearable humidity and can be even more uncomfortable than the Wet itself. So April/May to September, when the days are warm and the skies clear, is the main travel season with July and August the peak time.
How to get permits
There are many Aboriginal reserves across the Kimberleyfor which a permit is required, whether you intend to visit or just pass through. These include Balgo, BeagleBay, the Cape Leveque Road, Kalumburu, Mowanjum and One Arm Point. The permit is issued per vehicle and is free of charge – and, if you apply online, for many communities it can be issued automatically or within a day. See the WA Department of Indigenous Affairs website, www.daa.wa.gov.au. There are common-sense conditions attached to the permit, with restrictions to going off-road, fishing, littering, photography and the carrying and consumption of alcohol.
Towns of the Kimberley
Kununurra
Starting from the east, Kununurra is a great introduction to theKimberley. Modern and with full facilities, it began in the 1960s as the centre of the Ord River Irrigation Scheme. The 7500 population doubles in the tourist season. There's a wide range of accommodation and charter flights over the Bungle Bungles and Argyle Diamond Mine. kununurratourism.com.
Wyndham
Wyndham was born as the port for the Halls Creek gold rush in 1886 and now services the mining, cattle, agricultural and tourism industries. It's a sleepy town of 800 on Cambridge Gulf and the view from Five Rivers Lookout is spectacular. Wyndham Tourist Information Centre, (08) 9161 1281.
Halls Creek
Halls Creek is best known by travellers as the northern end of theCanning Stock Routeand the Tanami Track, and an entry point for Wolfe Creek Crater and theBungleBungleRange. However, the nearby ruins of Old Halls Creek date back to the first discovery of gold in WA in 1885; soon, 15,000 optimists were living here. Today it has about 1200 residents, including the surrounding district. hallscreektourism.com.au.
Fitzroy Crossing
As its name suggests, Fitzroy Crossing came about from people waiting for the floodedFitzroyRiverto drop so it was safe to travel across the causeway. Of course, the inevitable delay required a drink and that gave rise to the 1897 Crossing Inn. Geikie Gorge is close by but this is also a good base to exploreMimbiCaves, plus Tunnel Creek and Windjana Gorge. Fitzroy Crossing Visitor Centre, (08) 9191 5355.
Derby
Established in 1883, the Kimberley's oldest town was once the hub of the West Kimberley. It remains an important administrative centre with a population of 4500. The famed hollow boab prison tree is about 7km from town.Derbyhas theKimberley's main Royal Flying Doctor Service base. www.derbytourism.com.au.
Broome
Originally a pearling community, Broome now has a wide range of hotels, resorts and tourist operators. Very expensive jewellery (pearls and Argyle diamonds) may be on display in the stores but you can still ride a camel along Cable Beach, and Sun Pictures outdoor picture gardens is still packed on Saturday nights. www.broomevisitorcentre.com.au. 
Remote area road safety
• Always carry spare food and lots of water.
• Take a good map (as well as a GPS), matches and a torch. Make sure you have enough fuel for the journey as petrol stations are few.
• Give someone at home a travel plan and report in regularly.
• A rental satellite phone and emergency beacon (EPIRB) are not too expensive for the security they bring.
• Know your vehicle and make sure you have tools, a working jack (preferably high lift with blocks for soft soil), shovel, puncture repair kit and pump, and an extra spare tyre.
• In the event of a breakdown, stay with the vehicle, park it prominently and prepare for a long wait.
• Avoid driving at night and keep a lookout for animals on the road. Never ignore "road closed" signs.
• If you light a campfire make sure there's plenty of space around it and have a way to extinguish it. The chance of bushfires is great towards the end of the Dry.
• Be mindful that a remote area medical emergency is likely to require the services of the Royal Flying Doctor Service fromDerby.
• Crocodiles are a real threat to swimmers. Obey signs and listen to locals. If in doubt, no matter how hot you are, don't do it.
The details
• Kooljaman atCapeLeveque, (08) 9192 4970 or kooljaman.com.au.
• For information about theGibb River Roadattractions go to Mt Hart Wilderness Lodge's very useful gibbriverroad.net.
• For road conditions in the area go to www.mainroads.wa.gov.au. Within WA, state road condition reports (all hours and districts) can be obtained by phone on 1800 013 314.
• For National Parks information go to dpaw.wa.gov.au.For general information on travelling to theKimberley
Kimberley Development Commission, www.kdc.wa.gov.au
Tourist information: westernaustralia.com or australiasnorthwest.com.
MORE: Australian Traveller's Ultimate Kimberley Guide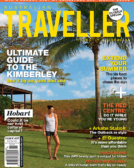 Enjoy this article?
You can find it in Issue 37 along with
loads of other great stories and tips.