AT Reader Sharon Wormleaton spends her holidays volunteering to help preserve one of Australia's rapidly vanishing woodland treasures – the humble numbat.

I've always enjoyed participating in volunteer conservation projects. They often constitute a holiday for me, so when I discovered there was a radio-tracking project involving this unique Australian animal, I didn't have to think twice. The Numbat is one of my favourite mammals, but sadly it's listed as Endangered in the 2008 IUCN Red List of Threatened Species. It used to exist across much of southern Australia, but now lives only in a few small nature reserves in southwest WA. Habitat destruction and predation by introduced mammals such as the red fox and feral cat have been the main contributing factors for the reduction in range and numbers.
This radio-tracking project was conducted by Dr Tony Friend from the Department of Environment and Conservation across two weeks at Dryandra Woodland, near Narrogin, just under two hours southeast of Perth. Volunteers could do either one week or both. Basically, a family of Numbats (a mother and her offspring) were fitted with collars carrying small transmitters, and their movements were monitored by the volunteers, who manned four radio-tracking towers for three daily 4-5 hour shifts, starting at 6am and finishing at 8pm. Simultaneous "fixes" were taken on each collared Numbat at 20min intervals, with the data collected used to map their movements and determine how the juveniles use their mother's home range prior to dispersal.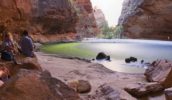 This was the third year the project had been conducted, hopefully to gain insight into the development of juvenile Numbats and why many don't make it to adulthood. While not on radio-tracking duties, there were plenty of other activities to be involved in, as well as opportunities to explore Dryandra, a virtual oasis in the WA wheatbelt.
The picturesque vistas created by wandoo woodlands and brown mallet plantations in contrast with the ochre soil are nothing short of spectacular. It's also a wildlife-watchers' paradise. Species that can be found in Dryandra are the Tammar Wallaby, Western Brush Wallaby, Short-beaked Echidna, Western Grey Kangaroo, Common Brushtail Possum, Sand Goanna, Shingleback, Thorny Devil, and numerous species of birds including Carnaby's Black-Cockatoo, Red-capped Parrot, Western Rosella, Elegant Parrot, Bush Stone-curlew, Tawny Frogmouth, Painted Button-quail, Malleefowl and a wide variety of passerines. For those interested in the nightlife, there's also a nocturnal excursion to Barna Mia, an enclosure within Dryandra containing threatened species such as the Bilby, Western Barred Bandicoot, Southern Brown Bandicoot, Burrowing and Brush-tailed Bettongs, and Rufous Hare Wallabies. Visitors to Barna Mia are given an informative talk and a guided tour to three feeding stations to see these nocturnal mammals.
The Dryandra Lion's Club Village, comprising of several old woodcutters' cabins, was our home for the duration of the project. The cabins sleep from two to 12 people, are fully self-contained, and are equipped with wood-fire heaters for those cold winter nights. If you want to escape the real world, this is definitely the place to be – no shops, no TVs, no computers and limited mobile phone coverage. Each cabin has a veranda – the perfect place to sit and watch the sun set behind wandoo trees while relaxing with a cold beverage. The only noise that can be heard at night is the thundering of possums' feet across tin rooftops, and the eerie calls of Bush Stone-curlews piercing the dark night. The village is also home to the Currawong Complex, suitable for large groups with two dormitories and a large kitchen/dining area. And for those who prefer camping, Congelin Campground is just a few kilometres from the village.
The radio-tracking project was a fun-filled and educational two weeks with numerous Numbat sightings, plenty of scrumptious food and ample photo opportunities. We learnt a lot about Numbats and radio-tracking, which incidentally isn't as hard as it sounds. Many of us had no previous experience and were glad we'd taken the opportunity to be involved. I wouldn't hesitate in participating again. It was certainly a privilege to contribute to the research needed to save this remarkable little Australian mammal from extinction.
Sadly, that could be a reality one day; it's thought there are no more then 1000 mature individuals remaining in the wild. Hopefully, with the research and conservation efforts from the DEC and the fundraising and public awareness efforts of an organisation called Project Numbat, it won't become a reality. To find out more about the Numbat or how to become involved, visit www.numbat.org.au. As for Dryandra, it can be visited at any time of the year.
There are numerous walking trails and an informative driving circuit detailing the history of the area – and who knows? – maybe even a few Numbats to be seen scurrying off into the undergrowth or peering inquisitively from atop a log.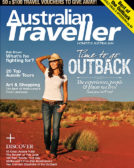 Enjoy this article?
You can find it in Issue 27 along with
loads of other great stories and tips.