Just north of the Tropic of Capricorn, blessed by warmer water throughout the year, WA's Coral Bay is a resort town for people striving to avoid the crowds.
"Standing knee deep in the Indian Ocean, surrounded by metre-long fish, turtles and coral, watching the sun dip below the window sill of the Earth . . . sunsets simply don't get any better." – MyPOWER Team
It's quiet, with a few caravan parks, holiday homes and convenience stores to save visitors the 2hr drive to Exmouth for a packet of chips. And, like Exmouth, Coral Bay provides access to Ningaloo Reef and all its wonders. Drawing visitors from all over the world from April to July to see its famous whale sharks, there are plenty of other tours on offer for people who suffer from hydrophobia (or simply can't be bothered to jump in for a swim), like glass bottom boating and fishing for marlin, mahi mahi, Spanish mackerel and sailfish.
As AT panellist Fleur Bainger says, "A short thong walk from anywhere in town gets you to the coral-fringed, glaringly white beach, which is more than enough reason to rate it. You can park your car and not use it for a week, and within a day you'll know half of the 150 people who live there. That's before you hop on a boat and meet the whale sharks, manta rays, turtles and fish that inhabit the offshore marine park. It's joy."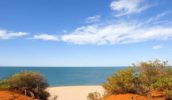 Where? // 1130km (14hrs) north of Perth.
Did you know? // Usually, the name of a hotel is named after the area. But the town's name, Coral Bay, was established after the success of a local hotel, The Coral Bay Hotel.
Return to: the 100 Best Towns in Australia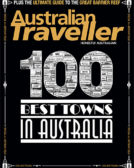 Enjoy this article?
You can find it in Issue 26 along with
loads of other great stories and tips.