An interesting mix of busy industrial town and old seaside port, Albany attracts people with its dramatic coastline, calm harbour and annual whale watching. One of the first towns settled by Europeans, a ship full of convicts and soldiers sailed into King George Sound in 1826. A replica of the brig now stands in the Princess Royal Harbour to acknowledge the town as being one of the oldest in WA.
There are many hstoric walks going past buildings and museums that tell of life in Albany in the 1800s. There's the trail to Possession Point, where WA was claimed by Great Britain and has great views over the town and coast. Albany's shoreline ranges from rugged cliffs jutting out into the ocean with blowholes and naturally formed rock bridges to sandy calm beaches perfect for relaxing on.
Whales can be seen between June to October and whaling in the area can be traced as far back as 1800, with commercial whaling stopping in 1978. You can go whale watching around the protective coves or visit Whale World, the only museum in the world to be housed in a former working whale station. And don't leave town until you've paid tribute to the fabulous Dog Rock (pictured above) on Middleton Rd, opposite the even more fabulous-by-association Dog Rock Motel. Interestingly, Australian poet Henry Lawson worked for the Albany Observer in 1890. When he returned to Sydney he wrote: "Albany will never change much – it is a pretty town, but vague. It seems to exist only in a somewhere-on-the-horizon sort of way; I like it all the better for that."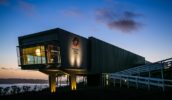 Where? // 406km (5hrs) southeast of Perth.
Did you know? // When writing Gulliver's Travels in 1726, Jonathon Swift allegedly used the same maps drawn by explorer Pieter Nuyts in the 1600s. If he did, one of the islands Gulliver sailed to, the idyllic Houyhnhnm Island, was located near present-day Albany.
Return to: the 100 Best Towns in Australia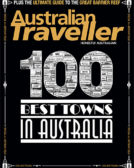 Enjoy this article?
You can find it in Issue 26 along with
loads of other great stories and tips.