Eagle Bay is the tiny gobsmackingly beautiful bay on the northern coast of what is now largely referred to as the Margaret River region, or Cape Naturaliste to the locals.
It's the place for Perth's rich and famous to have their holiday homes, and Eagle Bay's splendid beauty is so stunning that photos could easily be cropped and sold to unsuspecting tourists as the Maldives.
Shallow waters make for great snorkelling and fishing and, wandering into the bay, the startling white sand is blinding. The boats moored in the bay bob slowly on shimmering turquoise water. The bay forms a crescent, broken only by the interesting punctuations of nearby Sugarloaf and Castle Rocks. It's like stepping onto an exquisite tropical island.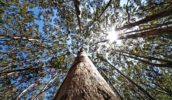 Accommodation is made up of holiday homes of varying levels – from luxurious to incredibly luxurious – and Eagle Bay has been selected as the location for the $1500-a-night True North Ashore holiday home, the land-bound sister property of the legendary True North cruise ship.
Eagle Bay is a town without much else. It's all about a relaxed holiday in a location so simply beautiful you need for nothing more. But, just in case you do, it's a tranquil base to explore the rest of the Margaret River area.
Where? // 264km (4.5hrs) south of Perth, 9km (15min) from Dunsborough.
Did you know? // In faithful extravagant True North Ashore style, 70,000 tonnes of genuine Kimberley rock was transported all the way to Eagle Bay from Wyndham for the feature entrance waterfall and the outdoor spa.
Return to: the 100 Best Towns in Australia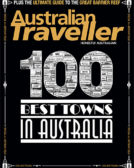 Enjoy this article?
You can find it in Issue 26 along with
loads of other great stories and tips.