6. Burnside Organic Farm
Lara McCall winces in pain as she manoeuvres her lithe frame around raised beds of biodynamic herbs and vegetables. The mother of three broke a rib surfing just yesterday, she explains. Of course she did. Her cred continues climbing as she explains how she left a finance job in Perth to establish this eco-focused property with her husband, Jamie, 17 years ago. Their rammed earth home gives way to an avocado orchard, grapevines, beds of borage, tamarillo, passionfruit and a small row of rain-fed caper trees, which are prized by local restaurants. Even if you've never been mad for capers, these khaki gems deliver a salty-sweet hit that will weaken the knees. The couple have just opened their property, Burnside Organic Farm, at 10am on Friday for tours (book in advance), sharing their views on self-sustainability – they grow most of what they need and even kill their own animals for meat – with the hope of inspiring others to follow suit. Where: 287 Burnside Road, Margaret River
7. Fair Harvest
You'll barely reach third gear before arriving at Fair Harvest, a sprawling permaculture farm where Jodie Lane and her partner Dorothee Perez grow an A–Z of seasonal produce. Chooks and geese roam beside crops of kale, fennel, leek and broad beans, while an olive grove, orchard, cattle and a timber plantation hem in the perimeters. The women have started opening their doors to the lunch crowd on Thursdays, revelling in their passion to eat off the land. Ninety per cent of what they serve is grown on the property; the rest is locally sourced, right down to the sea salt they scrape from the rocks. Where: 426 Carters Road, Margaret River
8. Margaret River Farmers' Markets
Expect something like a scene from Glastonbury when you arrive at the Saturday morning Margaret River Farmers' Markets, on the outskirts of Margaret River township. Mud and gumboots are out in force, matching a wholesome, country-chic look that locals pull off unconsciously as they wander between the 50-ish stalls of 100 per cent locally grown produce – grass-fed beef, local potatoes, freshly picked apples and more – while downing a fabulous coffee by Combi Coffee, served from a Kombi van, naturally. Where: 41 Wallcliffe Road, Margaret River
9. The Farm House
When we wander into the hilltop Farm House, David Hohnen is leaning on the bar detailing to a customer how best to slow-cook a cut of his famed pork. The former CEO of Cape Mentelle (Margaret River) and Cloudy Bay (Marlborough) wineries can now be found here four days a week, touring visitors through his small smokehouse and shooting the breeze on his current favourite topic: free-range, forage-fed pigs. "We can talk to our customers, and that's what I enjoy," he says. "I call it the high street experience. I'm a winemaker, I'm a home cook and I've often shaken my head at the glib responses people get at butchers." Hohnen's 'Big Red' pork is sought after by restaurateurs including Neil Perry, and his small goods stable also covers lamb ham, which is exactly what it sounds like, chorizo, merguez, pastrami and more. Try a platter of his smallgoods and his McHenry Hohnen wines on site, or take them with you. "We don't do a big range; what we do, we do well," he says. Where: 5962 Caves Road, Margaret River
10. Cambray Cheese
You can see why the bank manager repeatedly refused Jane Wilde's loan application. "They'd never heard of anyone milking sheep before," she says. The former nurse – a lactation consultant, no less – has been cheese-making for nearly 20 years, but back when she and her then-policeman husband Bruce chose their career change, they were seen as, well, a bit batty. They began with a mere three rare-breed sheep – the flock is now 180-strong – and created all their own cheese recipes. Their little shop and tasting table is well off the beaten track, en route to the town of Nannup, but forest corridors and the smelly-sock cheese justify the drive. It's impossible to choose between the Ashover, blackened with ash from their own jarrah trees, or the French-style, runny Frisette, so you may find yourself buying both (we did). Wonder if the bank manager is kicking himself now? See Cambray Cheese Where: 470 Vasse Highway, Nannup
The details: Margaret River
Getting there
The Margaret River region is around three hours from Perth. You'll need at least two full days to do the entire trail, particularly if you want to include the slightly further-reaching venues like Nannup.
Staying there
A bucket-load of accommodation is available in the region, but Silversprings Cottages are a best-kept secret: a collection of sweetly presented bungalows set on a family-owned farm. Pet friendly, too. From $194 per night, minimum two nights (or from $92 per night, mid-week special). The region's first B&B (and winner of last year's Peoples' Choice Awards 'Best B&B' category) Margaret River Guest House is another underrated gem: this rustic guesthouse blends heritage and contemporary with panache. From $200 per night. Both are bookable at margaretriver.com
Playing there
• Phone ahead for the operators who say 'by appointment only'.
• Allow at least an hour at the farmers' markets – particularly if you want to have some brekky there.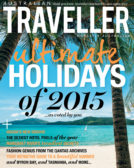 Enjoy this article?
You can find it in Issue 60 along with
loads of other great stories and tips.