If you're a serious food fan or even if you're not, the star-studded gastronomic extravaganza of Gourmet Escape food festival is the perfect excuse to spend a weekend at Margaret River (Greta Stonehouse). 
Three years ago, when the first marquee peg was hammered into the earth for the inaugural Margaret River Gourmet Escape, it's unlikely that punters had an inkling of just how enormous the region's signature food festival would become.
With an incredible roll call of chef talent, an ever-growing battery of local producers and clever, interesting events all set to the backdrop of Margaret River's pristine, turquoise beaches and lush landscapes, it's little wonder chefs from all corners of the globe starch their whites in eager anticipation of an invitation.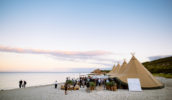 The drawcard of headline chefs ensures tickets sell out faster than you can flip an omelette, but the Gourmet Escape has also grown a reputation akin to a food-lover's Glastonbury, thanks to its lively, festival ambiance.
Many of the events are open to the sky, such as the Audi Gourmet Beach Barbecue and the Gourmet Village, but all have good, free-flowing wines and an incredible procession of flavours. It's enough to awaken the sleeping Bacchus in anyone. In 2014, Heston Blumenthal's fantastical flair lured the crowds but, this year, all eyes are on bad boy Brit, Marco Pierre White.
Often lauded as the first celebrity chef on the scene, the Hell's Kitchen star has trained broods of notable chefs, including Gordon Ramsay and our own Shannon Bennett who, incidentally, seems to have taken cues from his mentor's hairstyle as well as his culinary techniques.
While Pierre White is no stranger to Australia, having become a familiar face on MasterChef, 2015 will be his first Escape.
"I come to Australia two to three times a year and I work with [George] Calombaris, I work with [Matt] Preston, they bang on about it all the time," he says. "To be honest, very few things excite me at my age in life, but I've got to say, Margaret River excites me."
He's not the only chef bubbling with enthusiasm to join the party. Also starring at this year's event are a number of the world's most cutting-edge kitchen maestros, as named by the S.Pellegrino World's 50 Best list, including the UK's Rick Stein, Moscow's Vladimir Mukhin of White Rabbit and Gaggan Anand of the eponymous Gaggan in Bangkok – just to name a few.
Our own homegrown talent will also represent with the likes of David Thompson, Tetsuya Wakuda, Jock Zonfrillo and countless more rustling the pans.
Earlier this year, at an event held at Sydney's Guillaume to announce the Escape's new line-up, eponymous chef Guillaume Brahimi served up a Margaret River-inspired marron with pork cheek and sea spray. Taking the floor between courses, he paused to reflect on the simple reason this celebration of food has become so iconic, so quickly.
"To find a beautiful region that can make such amazing wine, and has great produce, is magic." Bring on this year's magic, we say!
The pick of the Gourmet Escape 2015
The Food Quiz: 20 November – Those who enjoy dispensing food facts to their dining partners at every given opportunity will relish the chance to go head-to-head with rival food diehards at this fun event. There's prizes to be won and dinner to enjoy, too. Cultural Centre, Walcliffe Road, Margaret River
An International Cabernet Celebration at Cape Mentelle: 20 November – Sample 20 of the world's finest cabernets over a delicious long lunch, one course of which will be prepared by acclaimed chef David Thompson, at Cape Mentelle's stunning vineyard. Cape Mentelle Vineyards, 331 Wallcliffe Road, Margaret River
An audience with Marco Pierre White: 21 November – The rockstar chef who has trained some of the world's best, headlines this year's Escape for the first time. Be sure to get yourself ringside to listen to Marco Pierre White regale his audience with tales from his kitchen. Voyager Estate, 1 Stevens Road, Margaret River
Brothl & Fervor at Cullen Wines: 21 November – Sustainable food advocate Joost Bakker and chef Matt Stone are teaming up to bring back Joost's acclaimed waste-free Melbourne cafe Brothl for one night only. The pair will be joined by Fervor's Paul Iskov whose passion is locally foraged food. Cullen Wines, 4323 Caves Road, Wilyabrup
Artisan Producers Gourmet Village: 21 and 22 November – Find the region's best producers all gathered in one place over two days of feasting. From chocolatiers to local brewers, not to mention your favourite Margaret River wineries, you won't leave with an empty stomach. Leeuwin Estate, 41 Stevens Road, Margaret River
Leeuwin Estate Art Series Dinner: 21 November  – Listen to the stories of star chef David Thompson and the godfather of food writing and events, Andrea Petrini, as you tuck into a menu prepared by Leeuwin Estate's chefs and explore the winery's collection of contemporary art… and its collection of premium wines, naturally. 41 Stevens Road, Margaret River
More: gourmetescape.com.au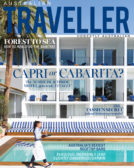 Enjoy this article?
You can find it in Issue 65 along with
loads of other great stories and tips.