Forget the Great Ocean Road. Australian Traveller readers Denis and Marcia Moore prefer a little southwest WA touring along the Great Ocean Drive . . .
Australia's Luckiest Bay



Forget the Great Ocean Road. AT Readers Denis and Marcia Moore prefer a little southwest WA touring along the Great Ocean Drive . .


On a recent trip around Australia, towing our caravan, we were lucky enough to spend some time in the coastal town of Esperance in WA. We hadn't heard anything about this town before, so we were delighted when we drove over the hills and into one of the prettiest places we'd ever seen.
Esperance lies on a beautiful bay, dotted with many small islands of the Recherché Archipelago. We headed for the best place to check out the views – Rotary Lookout, Wireless Hill, just south of town. Spectacular 360-degree views of the "Bay of Isles", the township, rolling farmland and Pink Lake (the colour is attributed to high concentrations of salt-tolerant algae, Dunaliella salina).
We stayed at the Seafront Caravan Park, a great spot with level sites, lots of shade and grass and good BBQ areas. We had views of the bay through a line of pine trees.
Not to be missed is the Great Ocean Drive, a 38km circular loop along the beaches to the southwest of town. Here you'll see the most spectacular coastal scenery, Observatory Point, the unique Pink Lake and two wind farms – Ten Mile Lagoon and Salmon Beach – which provide around 22 percent of Esperance's power needs.
Cape Le Grande National Park, 55km east of Esperance, is well worth a visit. If you're feeling fit, take a hike up Frenchman's Peak, a granite outcrop with terrific views of the coast and the national park. Wildflowers are in abundance from September to November, with over 250 local species.
We visited Hellfire Bay, Lucky Bay, Thistle Cove and Rossiter Bay. There are two fantastic campsites, each with shower and toilet facilities with solar hot water.
The campsites are near the beach and are suitable for tents and caravans. Cape Le Grande beaches had the whitest sand and the bluest water we'd ever seen. There was a large rock at Thistle Cove called Whistling Rock – and it really did whistle! (It sounds like waves crashing; very impressive.) There are many bush walking trails with friendly kangaroos.
Back in town on the Esplanade we discovered a small Aquarium, which is open every day. There were over 1400 species of fish and marine creatures. They have a "touch pool", where you can feel some of the creatures. There are two 18-hole golf courses, with low green fees. We chose Pink Lake golf course. It was hilly, but very pretty as it overlooked Pink Lake. We were warned that snakes were out of hibernation and we found a shiny black one sunning itself on the first fairway. We weren't going into the bushes to look for lost balls after that.
The town foreshore was gorgeous, lined with pine trees, picnic spots and lovely green grass. There were boats, bollards and seals frolicking by the pier hoping for a feed.
The Recherché Archipelago is a collection of 110 islands spread along the coast. There are a number of boat hire places, or you can go on a boat cruise around the islands on one of the larger boats. Woody Island, 15km from Esperance, is the only island open to visitors. It's a relaxing eco-stay camping resort. You can call in for morning tea, visit for the day or stay overnight in one of the Safari Huts (with queen-sized beds) or fully erected tents with mattresses supplied. The Woody Island Eco-stay is open from September to April each year.
The Esperance Historical Village, right in the centre of town, is home to the Visitors Centre, the Museum Park Art Gallery and various historic buildings that house craft shops and cafés. The Museum has a huge range of exhibits, including one of the Skylab, which plunged to earth in the local area in 1979.
North of Esperance on the Kalgoorlie Road you'll drive through rich fertile farmland. There are many hectares of crops lining both sides of the road. In the 1950s there were only a few farms in this area, now there are about 600 producing beef, fat lambs, wool, wheat, oats, barley and other crops.
We only had limited time in Esperance, but when we retire in a couple of years' time, we'll definitely do another, slower trip around Australia, spending at least a month in this part of WA. We can't wait!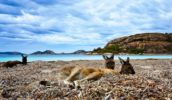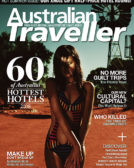 Enjoy this article?
You can find it in Issue 18 along with
loads of other great stories and tips.