Australian Traveller looks at Mermaid Leather, Australia's only specialist fish and shark skin leather tannery, in Esperance WA.
A small company in WA's southwest is turning the skins of fish processed for the food industry into modern-day fashion items.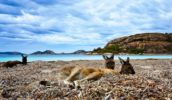 Mermaid Leather, in Esperance in WA's southwest, is Australia's only specialist fish- and shark-skin leather tannery. Environmentally friendly and utterly unique, Mermaid Leather's range embodies the essence of the Australian outback, with a fascinating range of pink, blue and deep golden brown leathers inspired by Esperance and the Australian Outback – as well as pens, handbags and shoes.
The fashion industry has even climbed on board and embraced Mermaid Leather, with the entrepreneurial company producing everything from bikinis to boots, jackets, shirts and luggage.
But owner and creator Andrew MacDermott insists this is just the beginning. "We use less than one percent of the available skins in Esperance," he says. "So the potential for this industry is enormous."
MacDermott and partner RW Bubb came up with the idea of tanning the skins of fish processed for the food industry back in 1989. "I was working in the commercial fishing industry and was on the lookout for something else to do," says MacDermott. By 1997, the company had transformed into a family business, with Andrew's brother David working as tannery manager.
The tanning process takes about four weeks from start to finish and Mermaid Leather uses the skins of local fish, as well as Darwin Barramundi and European Carp of Victorian waterways. "We'll have a go at tanning any bi-product from what's processed for human consumption," says MacDermott.
With Mermaid Leather's success lying in the individuality of their product, MacDermott says most visitors to Mermaid Leather marvel at what they've done. "They walk into our studio and say, 'Wow! I didn't think you could do that!"
Mermaid Leather currently ships completed stock to Karumba in north Queensland, Sydney, Melbourne and all throughout WA. With wholesale shipments already sent to the US and Britain, Mermaid Leather is hoping to expand into the international market. For more info about the tanning process, or to view their product range check out www.mermaidleather.com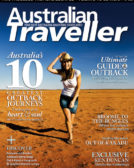 Enjoy this article?
You can find it in Issue 21 along with
loads of other great stories and tips.