Perths little known world leader in Pizzas
Pizza Tourism

In the hills of Perth, a pizza perfectionist is dishing up the world's best doughy dinners and desserts.

What is travel if not a search for a slice of the good life? So it shouldn't seem so strange that Mundaring, a hill shire 30km east of Perth, is enjoying its own tourist boom on the back of a local hero, a world champion by the name of Theo Kalogeracos. Theo's global mastery is not of sports or games, it's of pizza. He, according to the experts, is the world's best gourmet pizza maker, and he puts his reputation on the line six nights a week at his Little Caesars Pizzeria for delighted diners who come from near and far, from Cottesloe to Queens.

The Theo Kalogeracos story is a classic boy-done-good tale. Nine years ago, he and his wife, Liz, opened their pizza shop on the Great Eastern Highway, most of the way up one of the steep rises which mark the end of Perth's coastal plain. After a while, Theo started thinking he could put some real pizzazz into this whole pizza thing. Trained as a baker, and with a happy-go-lucky attitude, Theo wanted the choices for pizza lovers to be a little more interesting than just thick crust or thin. Enter, after a few best-forgotten failures, the alternative menu: notably, Oysters Kilpatrick Pizza, and, most notable of all, a range of gooey gastronomic delights known as dessert pizzas, led by the chocolate-melting magic of the Mudhoney Pizza, a creation Theo regards like a son.

Soon, Theo heard whispers of national pizza bake-offs happening over east. He entered his exotic assortment and failed spectacularly. But he kept coming back, and has since won three Australian pizza titles. This success led to last November when he was coupled with Andy Parisi of La Trattoria restaurant in Adelaide, the 2004 national champ, and the pair were shipped off to New York to represent Australia in the America's Plate, celebrated as the world championships of pizza.

With the world's best dough boys competing beside them, Theo and Andy caused a sensation in Manhattan. Simply, Theo's Mudhoney and Pecan Pie dessert pizza combo (plus, for the record, the Oysters Kilpatrick and a simple but superb Margarita) turned the judges and media hordes into hungry, slobbering, Mud-mouthfulled maniacs. Australia was crowned the world champion, Theo and Andy were standing as tall as the Empire State Building…and then, this being New York, the job offers started rolling in.

"Both of us got offers to stay in New York and open stores," says Theo, aghast at the memory. "They were like, 'You could make it really big here!' And we'd say, 'Mate, we're going home.'"

These days, a night in Mundaring isn't the same without table-loads of diners inside and out, a line outside the door, and a few cars braking to see what all the fuss is about at Theo's little shop.

"The win really has been good for the store, and also the area. You should see how busy the Mr Whippy [ice cream van] up at the weir gets before we open on the weekends. I joke and say he should give me royalties.

"We get people rolling up with their own tables and chairs because they know they won't get a seat."

Diners come from as far as the US to table-test the world's best. And it's not only Theo's eclectic menu that attracts; the price is right, too. For $70, this writer was able to feed a table of five – three large pizzas and two dessert pizzas, with bloated but satisfied stomachs for all.

Theo is booked to defend his title in New York later in the year. He's already got a secret weapon on the dough board – his new and irresistible dessert, the Coffee 'n' Donuts Pizza. "That's all they order in New York, so I'm going to give it to them on a pizza," he says.

So if in Perth, consider making it up to Mundaring for a meal. I bet three slices of the Mudhoney you won't be disappointed.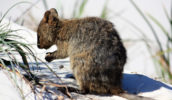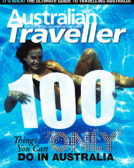 Enjoy this article?
You can find it in Issue 20 along with
loads of other great stories and tips.