A Tim Fischer's Secret Spot article for Australian Traveller Magazine on Rottnest Island
Finding Rotto



As chairman of Tourism Australia and a former Deputy Prime Minister, Tim Fischer has clocked up more travel miles than most people have had hot dinners. In the 14th of his exclusive columns for AT, he makes the short crossing from Perth to stroll among the Quokkas.
There are many islands between Australia and Africa, but first and not like any other is Rottnest Island just off Perth, on the edge of the sea channel known as Gage Roads, where we battled famously for the America's Cup in 1986.
Gage was an Admiral in the British Navy, and had that particular shipping channel named for him by Western Australia's first Governor, James Stirling, in 1826. Stirling could not have had any inkling, back then, of the changes the island would undergo. It had been inhabited and deserted already by Nyoongar people some several thousand years earlier. It had served as an internment camp during WWI, as a defence point during WWII, as a salt refinement area, an Aboriginal prison, and finally as a tourist destination and holiday resort.
These days, for some, "Rotto" (in the local parlance) is regarded as down market, a bit windswept and why the fuss. For others it's in the middle of a makeover; it's a clean environment with many intimate bays and beaches; it's a place to escape to that will soon have a new eco-friendly 4.5 star resort. I am of the latter group, and would add that the 30 to 40 minute ferry crossing, both in good weather and bad, is a perfect way to leave mainland worries behind and prepare for a break in the Indian Ocean.
Delightfully, a great many of Rottnest's cottages and rental units on the island are named for distinguished sandgropers, and it can be quite fun (not to mention testing) trying to work out some of the more obscure names as you cycle about. Vlamingh is relatively simple – he's the Dutch fellow who spied the place in 1696 and, on spotting the island's native mini-kangaroo, began all that Quokka/rat/rat's nest/Rottnest confusion. But Colebatch is trickier, and Fitzhardinge practically impossible unless you're from the area. Colebatch, it turns out, is named for Sir Harry Colebatch, who still holds the record for shortest time served as premier of WA – from April 17 to May 17 of 1919. The best I can ascertain for Fitzhardinge, after a small amount of research, is a late member of the Royal Perth Yacht Club named Captain Fitzhardinge who served valiantly in WWII.
A far more frightening but no less intriguing aspect of Rottnest's history is that involving local Aboriginal tribes, many of whom were forcibly incarcerated on Wadjemup ("the land over the ocean") during its darker years as a penal establishment. For these groups especially, there is great import attaching to Rottnest and all that it represents. The Nyoongar survived here more than 6000 years ago before retreating to the mainland, and more recent sites exist such as the holding cell that was the first building on Rottnest, constructed with Aboriginal labour and eventually used to incarcerate them.
As a further bonus for visitors to the island, there's the purpose-built Great Rottnest Railway (or GNR) with its run up Oliver Hill to eerie giant gun emplacements, which provides a chance for the powers that be to complete a loop and ensure motor vehicle usage is next to zero, in favour of pushbike and rail motor. Now, if Rottnest had a noon firing each day of a modern, safe, but look-alike cannon from the 19th Century – say, somewhere near the main pier from which ferry passengers alight – then again at sunset, this would certainly add a touch of action to the place.
And speaking of action, the island also plays the important end-point role for the Rottnest Channel Swim, held annually in February. It's grown to become one of the largest open-body swims in the world, and if you can time a visit to Rotto to coincide with this tremendous event, there's no better place than a seat at the Quokka's Arms for an ale with the weary but jubilant swimmers after almost 20km in often rough seas. In fact, after such exhausting efforts, it's almost certainly your round.
DETAILS // Rottnest Island
WHERE // 32km west of Perth, 19km west of Fremantle. Ferries depart regularly from Perth (60min), Fremantle (30min) and Hillarys (45min).
BEST MONTHS TO GO // Summer finds Rottnest so packed with holidaymakers that it's all you can do to find a square inch of sand at the iconic Basin. Winter is preferable in many ways, especially because there are no flies.
CONTACTS //
Rottnest Island Authority: (08) 9432 9111, www.rottnestisland.com
// Rottnest Channel Swim: (08) 9287 2550, www.rottnestchannelswim.com.au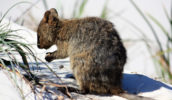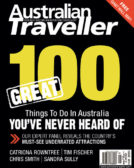 Enjoy this article?
You can find it in Issue 14 along with
loads of other great stories and tips.