The Karijini Experience – Opera, yoga, cooking, photography, painting, astronomy and guided walks – makes the already amazing national park even more so; number 34 on Australian Traveller's '100 amazing places you haven't been to yet'. Nominated by: Mark Olive, 'the Black Olive' indigenous chef.
Karijini National Park, in the Pilbara is already at the top of most bucket lists for its amazing spectacle of colours, waterholes and enormously ancient gorges – but even more special, says Mark Olive, is a trip to Karijini during the annual, four-day 'Karijini Experience'.
Opera, yoga, cooking, bird-watching, photography, painting, astronomy and guided walks are all part of the program, but Olive's favourite part is the dinner under the stars.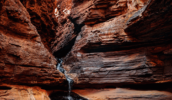 Granted, he's the headlining chef for the event, so you might expect as much, but he swears there's more to it than that.
"Karijini is just the most amazing place; it just blows you away," he says. "The night is capped at 100 people, so it's not overly large; the attendees are always great people, and the destination is magic. It's just an amazing experience."
This year's event is on from 1–4 May; the culinary experience is held on Sunday 3 May.
Return to: 100 Amazing Places You Haven't Been to Yet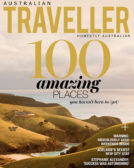 Enjoy this article?
You can find it in Issue 62 along with
loads of other great stories and tips.