***This article was created in partnership with our sponsors Sunset Events***
The North West Festival, the Pilbara region's premier annual music event, returns to Western Australia's Port Hedland (August 22 to 24) with an amazing line-up of artists and a bunch of colourful activities in between.
The North West Festival has grown into a true weekender, with two nights of entertainment and free camping, as well as an acoustic 'Sundowner'.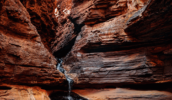 In its third year, the festival has attracted big names such as Missy Higgins, The Dandy Warhols, Wolfmother, Ball Park Music, Art vs Science and Illy. To cap off a memorable few days in the Pilbara, there will be an evening of acoustic acts at the Port Hedland Civic Centre (on Sunday) featuring Thelma Plum, Dustin Tebbutt and local acts.
Free shuttle services will be provided to transport punters around the range of activities being held in and around Port Hedland – it's the ultimate weekend experience in WA's red centre.
A Saturday market, featuring food, arts, and a variety of stalls, is the perfect way to start your festival day (thanks to The Town of Port Hedland and FORM). Grab a coffee, join the long-table breakfast, then wander around and taste the flavours of the to Port Hedland. Local entertainment will complement the markets with a mix of buskers performing from the Pilbara, Kimberley and Perth; along with urban street art performances.
Apart from the festival events, there is a wealth of things to see and do in Port Hedland so plan your trip to include the best the Pilbara has to offer. Don't miss the Courthouse Gallery, showcasing an impressive collection from local artists, handcrafted jewellery and accessories, books, and beautiful items from national designers.
A short walk from the gallery is Marapikurrinya Park, a great vantage point to see the gigantic ore carriers and salt ships coming in and out of Australia's highest tonnage port. Port Hedland's original inhabitants, the Karriyarra people, named the place Marapikurrinya after the hand-shaped formation of the tidal creeks that flow into the natural harbour.
Port Hedland ships more than 70 million tonnes of mining products each year, worth more than $3 billion. Hop onto a one-hour guided tour of BHP Billiton Iron Ore's facility at Nelson Point to witness the enormous bucket wheel reclaimers and the impressive workings of the conveyors and ship loaders that transport the valuable cargo around the world. The tour offers an insider's insight into the scope of Australia's mining industry.
For nature lovers, the magnificent Karijini National Park is a 350km drive from Port Hedland. With spectacular gorges, plunging waterfalls, amazing rock patterns, colours and gorgeous swimming holes, this park is touted as one of Australia's best-kept secrets.
Eighty Mile Beach, featured in Andrew D. Short's beachgoers' bible, 101 Best Australian Beaches (from 11,761 beaches on the mainland), is 250km north of Port Hedland. Renowned for fishing and shell collecting, it is also an important feeding ground for half a million migratory shorebirds.
For more on Port Hedland and The Pilbara
Visit Australia's North West. And check out the Kimberley and Pilbara Holiday Planner, an interactive brochure with the full list of highlights including ideas for eating and drinking in Port Hedland.
Or see Port Hedland Visitors Centre
Festival information & tickets
Single and multi-day festival tickets (as well as the full-access 'Golden Ticket') are available from Moshtix or by calling 1300 438 849. Camping is included in the ticket price. For more information on the North West Festival visit northwestfestival.com.au or sunsetevents.com.au