Sony's latest clever marketing ploy saw a series of Twilight Football competitions take place right around the globe, with one of Australia's quirkiest tourist landmarks featuring as a star attraction, writes Eleanor Griffin.

The Pinnacles Desert in WA provided a unique backdrop for a game of football in the delicate light of approaching dusk on September 22. Sony's global Twilight Football campaign was organised to highlight the new features of the of Exmor R CMOS technology, which are designed to enable the latest Cyber-shot digital cameras, DSLR cameras and Handycam camcorders to capture detail in challenging lowlight conditions – a clever fit, if we do say so ourselves.
The games kicked off just as dusk began to fall to capture the most "picturesque light that nature has to offer".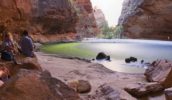 As part of the marketing campaign, seven football games were organised to be played in some of the most dramatic locations around the world. And in WA, the eerie landscape of limestone in Nambung National Park provided a challenge for the players, who were each chosen for their individual style that would compliment the location. The photographers were also selected for their ability to creatively show the action in the twilight.
The games kicked off just as dusk began to fall to capture the most "picturesque light that nature has to offer". Each separate site provided vastly different terrains for the teams, which have produced some striking contrasts featured in the photographs. The project set up games in UK, Italy, Switzerland, Spain, Argentina, South Africa, and Australia. In fact, the Australian team was flown to the UK and won 10-6 against a team from Latin America, set among the ruins of Tintagel Castle in Cornwall.
The "streetfootballworld" teams were also involved, which use the sport to address social issues and to help improve disadvantaged communities.
Ruben Lawrence, Strategic Partnerships and Events Manager, Sony Australia described football as both visually stunning and having the power to elicit emotional reactions from fans globally, "We wanted to do something to celebrate the unifying aspects of football, giving football and photography fans the once-in-a-lifetime chance to experience firsthand some of the most stunning locations in the modern world."
If you'd like to join Sony's Twilight Football Australia Facebook group, click here: www.facebook.com/group.php?gid=94194213038
Or check out www.sony.com.au for more info.