Banksia Farm and Garden – only place in the world, where all 77 species can be found
The magnificent and multihued Banksia: iconic Australian wildflower; important source of nectar for honeyeaters and pollinating creatures; inspiration for the terrifying Banksia Men of Snugglepot and Cuddlepie fame; a favourite and hardy garden plant; ranging from low shrub to towering 30m-high tree; found in all but the most inhospitable areas of the country – and distinctively one of those rare plants that regards our harsh bushfire seasons as merely another chance to regroup and spread its seed.
How marvellously Australian can you get? With the exception of the Tropical Banksia, which is found in some areas of New Guinea and small islands near eastern Indonesia, the Banksia is wholly native to Australia.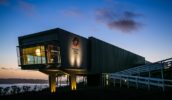 There's still rigorous debate on this point, but for a time it was thought there were 76 distinct species of the hardy little plant, until a 77th – B. rosserae – was identified in 1999. And, for the edification of amateur botanists everywhere, the only place in the world where all 77 of these species can be found is at the Banksia Farm and Garden in Mount Barker in southwest WA.
Southwest WA is home to three quarters of the known species of Banksia, so the exquisite five hectares of wildflower gardens – the 20-year labour of love of owners Kevin and Kathy Collins – set against the backdrop of the 1100-million-year-old Porongurup National Park seems the ideal spot to experience the wild diversity of this popular native flower. And after your tasting, touching, smelling, extremely tactile tour, the Banksia Farm and Garden also features tearooms, a botanic art gallery, a native plant nursery and B&B accommodation.
"FOR THE ECO-LOVERS AMONG US, THIS IS A DEFINITE." – Sandra Sully
WHERE // Mount Barker, gateway to the Porongurups, is 50km north of Albany in southwest WA. The Banksia Farm and Garden is on Pearce Rd, (08) 9851 1770, best flowering time is April to November.
DID YOU KNOW? // It's not just a botanists' heaven here: the Banksias and other plants draws animals from miles around. Geckos, goannas, bungarras (monitor lizards), marsupials, predatory birds such as wedge tailed eagles, peregrine falcons and the like – it's a bountiful nesting site, as well as a perpetual parrot paradise!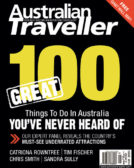 Enjoy this article?
You can find it in Issue 14 along with
loads of other great stories and tips.