Greens Pool is one of Australia's best places to swim and has made our list of the "100 Great Australian Things To Do In Australia You've Never Heard Of".
Live anywhere outside of WA and you're unlikely to have heard of Greens Pool. It's just one of the natural coastal jewels Australia is home to in their hundreds – cool, crystal clear waters tending towards emerald with the weather and seasons' ebb and flow.
A cove protected from the elements by a cosy sheltering barrier of granite. Interesting rock formations and rock pools nearby for examining (and being examined by) tiny crabs, anemones and other coastal-dwelling oddities. Soft sands. A crescent shoreline. Tiny islands just offshore to contemplate. A haven, safe for swimming and snorkelling for all ages, in full view of the larger, mightier ocean.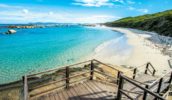 These secretive pools are dotted all along Australia's coast, and with 7000 beaches in all, we've chosen Greens Pool as just one example among many. Just a little further to the east of Greens Pool lies another special cove, Elephant Rocks, so named because of the reddish elephantine boulders strewn everywhere that take on the appearance of a lumbering herd – a real photographers' favourite against the deep blues and greens.
WHERE // Denmark is 45mins drive west of Albany on WA's southwest coast, and Greens Pool itself lies a further 20min west of that, at the end of a track running right through William Bay National Park to the beach.
DID YOU KNOW? // William Bay NP is one of the areas in which blue-flowered lobelia plants are found. They're also in New Zealand, South Africa and South America – just one of the pieces of evidence that point to Australia once being part of the ancient southern "supercontinent" of Gondwanaland.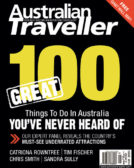 Enjoy this article?
You can find it in Issue 14 along with
loads of other great stories and tips.