100 Best Views In Australia #15 Ormiston Gorge, NT
April 1, 2012
Where is it? Off Namatjira Drive, 135km west of Alice Springs in West MacDonnell National Park
How to see it for yourself?
This shot of Ormiston Gorge was taken from the banks of the creek, a very short walk from the car park. The visitor centre is about 8km from the Ormiston Gorge turn-off on Namatjira Drive, and although roads are sealed, they can become impassable after heavy rain. However, the best way to see the gorge is to walk one of the many trails available, ranging from the five minute Waterhole Walk, which has wheelchair access to the end of the paved path, to the Ormiston Pound Walk, which takes up to four hours to complete. For keen hikers, the Larapinta Trail also passes through the area, but it is a challenging long-distance walk that requires careful preparation.
Why I love it
"This is classic Australian outback country. People often think of the centre of Australia as arid, but in the desert there are some beautiful oases and this is one of those places. Where there is water, there is life, as evidenced by these graceful old river gums surrounding the waterhole. The creek is fed by spring water, and really only runs after heavy rain. The rich red walls rising up around the creek turn the gorge into a sanctuary – a beautiful place to go for a swim and find relief from the heat." – Ken Duncan
AUTHOR
COMMENTS
LOCATION
View on map
Ormiston Gorge, NT
Ormiston Gorge is one of the underrated wonders of the outback according to Australian Traveller magazine. it is #5 in their list of "100 Great Things To Do In Australia You've Never Heard Of"
THE DETAILS
Where // NT, Australia
Contact // 08 8951 8211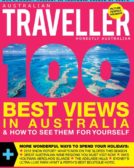 BUY THE ISSUE
This article appeared in Issue 44 of Australian Traveller.
The 2012 100 Edition
* 100 Best Views in Australia & how to see them for yourself
* 2012 Snow Report: What's new on the slopes this season
* Great Australian Wine Regions you must visit now
* WA's Houtman Abrolhos Islands
* Out & About Adelaide Hills
Plus
Ultra Luxe Park Hyatt, Perths Best Boutique Hotel reviewed


BUY THIS ISSUE