100 Best Views In Australia #2 Burra Homestead, SA
April 1, 2012
Where is it?
Just outside Burra, 160km northof Adelaide
How to see it for yourself?
Famous to Midnight Oil fans for featuring on the cover of Diesel and Dust – also shot by Ken Duncan – this old homestead at the foot of the Mt Lofty Ranges was abandoned long ago by smallholders unable to sustain a livelihood on this rain-starved land. Ironically, this iconic scene of golden rural Australia is looking a lot greener now after all the recent rain – if you visit in September-October, you might even find it surrounded by canola in bloom, though the crops are rotated. Hence you might not see this this exact scene. Drive north on the Barrier Highway for 6km from the centre of the historic town of Burra – once a major copper mining centre and also a location used in the filming of Breaker Morant. You'll see the homestead on your right about 100m off the road. But bear in mind it's on private property, so unless you ask permission for a closer look, you can only view it from the road. The building faces west so visit in the late afternoon to see it in its best light.
Why I love it
"I first immortalised this old farmhouse in my early days as a landscape photographer. The original shot became one of my most famous images when it was used on Diesel and Dust. How it tickled me when I returned to the area more than ten years later and the local tourist office gave me directions to 'the Midnight Oil house'!" – Ken Duncan
AUTHOR
COMMENTS
DUNCAN CANNON
I am an amateur photographer and would like to obtain permission to get closer to the homestead.
I have a rural background so I behave appropriately on people's land. How would I go about this? I will be there around early August.
EDITOR

Hi Duncan,

Amazing place, eh? Your best bet is to contact the Burra Visitor's Centre (phone: 08 8892 2777). They should know either way.

Good luck on your journey.

Regards,
OZ ROCKERS SONIC DIVIDE TO SHOOT DEBUT VIDEO CLIP - CLASSIC ROCK FORUM
[…] Covers Of All Time'. The old homestead also ranks at #2 in the '100 Best Views In Australia' list – 100 Best Views In Australia #2 Burra Homestead, SA | Australian Traveller The guys from Sonic Divide can't wait to undertake the shoot at the old homestead (as well as other […]
WARWICK BUCKLAND
Hi
My Partner and myself will be visiting Burra in about 4-7 days and would like to meet someone to show us through the Burra homestead. After reading the article written about the funding, etc to keep it restored and weather proof is one of the reasons why. Can you either call me on 0407 295 292 or send me a return email.
Regards & Many Thanks
Warwick (Wozza) Buckland
PS l will bring my tape measure
with me I'm an X builder
LOCATION
THE DETAILS
Where // Burra, SA, Australia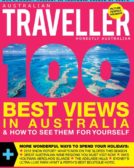 BUY THE ISSUE
This article appeared in Issue 44 of Australian Traveller.
The 2012 100 Edition
* 100 Best Views in Australia & how to see them for yourself
* 2012 Snow Report: What's new on the slopes this season
* Great Australian Wine Regions you must visit now
* WA's Houtman Abrolhos Islands
* Out & About Adelaide Hills
Plus
Ultra Luxe Park Hyatt, Perths Best Boutique Hotel reviewed


BUY THIS ISSUE