100 Best Views In Australia #28 Lake Oberon, TAS
April 1, 2012
Where is it?  The Western Arthur Range, 90km south-west of Hobart in SouthWest National Park
How to see it for yourself?
This picture was taken looking north-west in the 15km-long, 22-peak Western Arthurs, south of Lake Pedder in the Tasmanian Wilderness World Heritage Area. You access the range from Scotts Peak Dam on a challenging walk of two to three days, or longer to traverse the whole range. Tasmanian Wilderness Experiences offers guided walks through the Western Arthurs.
Why I love it
"I love the breathtaking scenery in this magical part of the Tasmanian wilderness. I can easily spend time watching the wildlife, admiring the scenery and taking a few leisurely walks along the way. This is truly a special place that I can never remove from my mind." – Diane Byrne, Tourism Tasmania
Image by Glen Turvey
AUTHOR
COMMENTS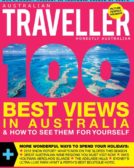 BUY THE ISSUE
This article appeared in Issue 44 of Australian Traveller.
The 2012 100 Edition
* 100 Best Views in Australia & how to see them for yourself
* 2012 Snow Report: What's new on the slopes this season
* Great Australian Wine Regions you must visit now
* WA's Houtman Abrolhos Islands
* Out & About Adelaide Hills
Plus
Ultra Luxe Park Hyatt, Perths Best Boutique Hotel reviewed


BUY THIS ISSUE