From incredible sculptures to swimming with seals, sharks and tuna. This is Australian Traveller's list of 100 Great Things To Do In Australia You've Never Heard Of 

Overwhelming feedback from our seminal 100 Things To Do In Australia Before You Die led us to think we'd missed something: sure, we had all the big icons covered, but what about the underrated and unknown?
These are the experiences we as Australians value and love about this amazing, sometimes bizarre, continent. We figured we're always coming across something fascinating we've never heard of before, why not share it with the world?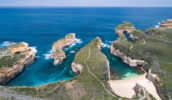 Once again our esteemed panellists got right into the spirit of the exercise, plucking the best and brightest from an original list of hundreds and hundreds of great nominations from around the country. They deserve our hearty thanks, because by its very nature this was a far trickier task than identifying Australia's major icons, since no one panellist had heard of even a fraction of the attractions offered. But if it sounded intriguing and their reactions led them to exclaim, "now that I'd like to see," then there was a fair chance that you, the reader, would agree.
The result is a fun, fascinating, wonderful eye-opener of a bible to some of the historic, mythic, incredible hidden corners of Australia.
As always, please send us any Great Things you think we've missed.
See you out there,
The Australian Traveller Team
---
Click the links below to check out each 100 Great Things Entry
1-50
51-100
001 Explore Kakadu's little brother Litchfield
002 Be cast for eternity onto salty Lake Ballard
003 Swim with wild seals at Baird Bay
004 Go on holiday save 100 lives at Mapoon
005 Reach the oasis of Ormiston Gorge
006 Visit the other remarkable pebble Mount Augustus
007 Open a half-million-year-old treasure chest Naracoorte Caves
008 Visit one of the world's oldest art galleries Carnarvon Gorge
009 Go swimming with tuna at Port Lincoln
010 Hear a great set of pipes at the Undara Lava Tubes
012 Stay the night in a light on Montague Island
013 Lose yourself in the bluest lagoon at Fitzroy Reef
014 Call the birds in on towering Mount Gower
015 Take a vow of silence in New Norcia
016 Be among the first to paint the hills in outback SA
017 Celebrate Australian biodiversity at Australian Garden 018 Adrift on a Dead Sea at the Pool of Siloam
019 Rent your own island in the Mackerel Islands
020 Get dragged around with Sydney by Diva
021 Look! Up in the sky! It's your round! Flying Pub Crawl
022 Bathe in convict history at the Bogey Hole
023 Live the life of a keeper on Gabo Island
024 See Sydney from a VERY different angle
025 Paddle under a convict prison in Fremantle
026 Play catch with sharks on the Undersea Explorer
027 Lose your blues at Greens Pool
028 Be a postman for a day on the Outback Mail Run
029 Take the longest sheer plunge down Wallaman Falls 030 Stay at Kangaroo's lighthouse trinity
031 Dive into the world's purest cleanest water Mount Gambier
032 See the world at 300m per second in a Mig Jet
033 Gain some extremely remote access at Garig Ganuk Barlu
034 Find food for your soul at Flames of the Forest
035 Stride among the city of Gnomes
036 Watch over Australia's moodiest lake Blue Lake
037 The Sound of Music at Mount Scoria
038 See blind shrimps and a million stars at Cutta Cutta Caves
039 Fly to the ancient source of Australian art
040 Visit our most haunted house Monte Cristo Homestead
041 See the other side of the rainbow Rainbow Serpent Tour
042 Twitter with the Twitchers at Coffs Coast
043 Stroll along the seabed with Seawalker
044 Find a home among the Banksias
045 Bathe in a boiling outback lake at Dalhousie Springs
046 Spot Australia's oldest graffiti on Chambers Pillar
047 Get on your soapbox Australian Billy Cart Champs
048 Travel in a clattering time machine the Afghan Express
049 Take tea with the Morning Tea Ladies on Tiwi Island
050 Go French for a hidden tourism gem French Island 
051 Go to sea in a tinnie at the Beer Can Regatta
052 Hold your breath for the dive of the century Fish Rock Cave
053 Fly in raft out on the North Johnstone River
054 Run with white lions in Mogo Zoo
055 Win your wife's weight in beer Wife Carrying Champs
056 Don't fence me in at Cameron's Corner
057 Watch spawning cuttlefish off Whyalla
058 Proclaim yourself King for the night Kings Plains Castle
059 Walk through untouched lands Kakadu Hawk Dreaming
060 Visit an outback slice of the '50s at Bells Milk Bar
061 Imagine the land before maps on the Great North Road
062 Catch your own seafood platter at Black Point
063 Prepare to circle the wagons in Bendigo
064 Hop on Tasmania's newest ride Piners and Miners Tour
065 Play polo in Banjo country at the Geebung Polo Match
066 Make your own wine at Penfolds
067 Tinker with Tilba Tilba's trinkets
068 Walk among the dolomites in the Hastings Caves
069 Make like Moses at Burning Mountain
070 Go deep underground with Douggie's Mine Tours
071 Boogie-woogie on rails in the Blues Train
072 Rent your own cave in the Upper Blue Mountains
073 Visit Australia's unknown Grand Canyon Capertee Valley
074 Share your secrets with the Whispering Wall
075 Find your way among the roses at Ashcombe
076 Bomb the Perry Sandhills on the banks of the Murray
077 Have the perfect family day at Parsley Bay
078 Stumble across Beautiful Betsy
079 Crawl through a goldmine at Arltunga
080 See the giant water babies at Point Ann
081 Crawl through a convict tunnel in Clarence
082 Visit a country within a country Principality of Hutt River
083 Back your favourite cane toad on Magnetic Island
084 Twirl a brolly from a previous century Old Umbrella Shop
085 Delve into your immigrant past at the National Archives
086 Visit Hans Heysen's home among the gumtrees
087 Spot Australia's rarest mammal at Two Peoples Bay
088 Dive into surfing heartland's Blue Pool
089 See the walls come alive at Kurri Kurri
090 See the world's largest acrylic painting at Broken Hill
091 Sail the postman's run up the Hawkesbury
092 Join the outback pest war against the Yellow Crazy Ants
093 Roll with the pumpkins at Goomeri
094 Wander through the scarecrows in the vineyard
95 Step through the looking glass National Art Glass Gallery
096 Get the best coffee in the galaxy at Tidbinbilla
097 Ride fly eat and learn on the Flying Camel Tour
098 Pay your respects to Tom Roberts' Big Picture
099 Drink the world's most expensive coffee
100 Set your spider senses tingling at Australia's Venom Zoo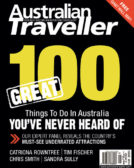 Enjoy this article?
You can find it in Issue 14 along with
loads of other great stories and tips.