Ormiston Gorge is an oasis in the middle of the West MacDonnell ranges. It's also one of the most underrated places in Australia to visit.
"IF YOU CAN ONLY GET TO ONE OF THE SPECTACULAR GORGES IN THE WESTERN MACDONNELLS, THIS IS THE ONE TO HEAD FOR." – Richard I'Anson
The landscape of the Northern Territory simply does not let up. It's so overwhelmingly harsh at times it's near impossible to believe that anything out there could survive for any length of time. But of course it doesn't take long, moving through the vastly changing regions, to see that people, animals, plants and a deep culture has survived, and done so for countless millennia.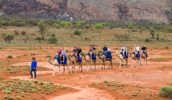 Depending on when you visit the Red Centre, there are many occasions – especially in the wake of rare rains – where young, green shoots can be found making their way up through rocks too hot to touch. That surely encapsulates perfectly what the Northern Territory is all about. Life out there finds a way.
There's no better expression of this than stumbling suddenly upon Ormiston Gorge. After winding your way there from Alice Springs along the Mereenie Loop Road, taking in the various shimmering horizons, deep craters, desiccated riverbeds and dusty red trails along the way, to arrive abruptly at this oasis is nothing short of remarkable. Ormiston Gorge, nestled in the West MacDonnell National Park at around the halfway point of the fantastic and world-famous Larapinta Trail, is well and truly a part of Albert Namatjira country. With a near permanent waterhole at the southern end that plunges to 14m, ubiquitous river red gums and blood red walls rising to 300m, you can catch a break from the heat and the flies for an undisturbed swim here – an incredible treat in year-round average temperatures pushing the high 30s.
WHERE // Ormiston Gorge is 135km west of Alice Springs, just past Glen Helen at the end of the sealed road section of Namatjira Drive.
DID YOU KNOW? // Ormiston Gorge is fed by Ormiston Creek, a tributary of the nearby Finke River. It's said that the mighty Finke only ever has all of its 1000km of interconnected branches and tributaries running perhaps twice a century.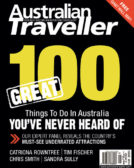 Enjoy this article?
You can find it in Issue 14 along with
loads of other great stories and tips.