David Caporaletti was an architect-cum-project manager before he decided to take up winemaking as a hobby, but now his wines are everywhere – if you can get a bottle. They are made in small batches, so you've got to be quick to get that chardonnay.
4. Gentle Folk Wines, Adelaide Hills, SA
Gentle Folk is one of Watkins's favourite wineries – their wines are clean and refreshing, but also soft. "They make some lovely clean styles of wine," he says. "Natural wines can sometimes be a bit animalistic, but you can also get a lovely prettiness in them."
5. Sparrow & Vine, Eden Valley, SA/Sydney, NSW
Sparrow & Vine grow their grapes in South Australia's Eden Valley, but press and bottle them in Sydney's Marrickville. "They have a lovely simplicity, are good fun and resonate well with people," says Watkins.
MORE… The rise of 'minimal intervention' natural wine
ELSEWHERE IN THE VINEYARDS…
→ Top 10 Superb Ways to Enjoy Wine and Vine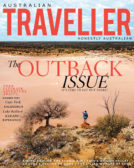 Enjoy this article?
You can find it in Issue 73 along with
loads of other great stories and tips.