So many options, so little time… choosing which tours to do in Kakadu can be bamboozling because they all sound so great, so we've taken the hard work out of having fun with this cheat's list of the best ways to see the best bits of Australia's biggest (and best) national park.  
Which Kakadu boat cruise to choose?
To really get to know Kakadu's wetlands you really have to get out there… here are the pick of the cruise tours in the national park.
Yellow Water Cruises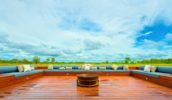 This iconic Kakadu tour operates year-round out of Cooinda, which means the landscape is ever-changing, depending on the season.
With several large vessels carrying a lot of passengers, you won't find it an intimate experience but the wetlands are duly spectacular, the nature on display unfailingly spectacular and the driver knowledgeable. Take the tour at dawn or dusk when the wildlife is more active. Two hours for $90–$99; see www.kakadutourism.com/tours-activities/yellow-water-cruises/
Guluyambi cultural cruise
From a small dock not far from Ubirr, you will venture to the Arnhem Land side of the East Alligator River on this small covered boat cruise.
This Aboriginal reserve is otherwise inaccessible to tourists, unless you have a permit. Expect to see some impressively large crocodiles, sandy beaches, ancient rock art and a spear-throwing demonstration.
Guide Robert Namarnyilk is an acclaimed Aboriginal artist who has sold his paintings internationally. Tour takes 1 hour and 45 minutes and costs $79; see kakaduculturaltours.com.au
Kakadu's best scenic flights
You might think most of Kakadu's action is on the ground, or out on (or under) the water, but you get a whole new perspective of the floodplains and escarpments from the air, especially in the wet. If you're a photographer, a helicopter flight offers the ultimate in flexibility.
70-minute west season flight that includes Jim Jim and Twin Falls, as well as shorter flights .
Choose from 30 or 60 minute flights in a helicopter or a fixed-wing aircraft
Offers a range of flights including a two-hour fixed-wing aircraft tour.
Kakadu's best 4WD tours
Considering a four-wheel-drive to of majestic Kakadu National Park? Look no further, here are our pick of the 4WD bunch…
Spirit of Kakadu Adventure Tour
For a full day of activity (almost 10 hours) take this indigenous-owned excursion that operates year-round (departing from Cooinda Lodge).
In the dry season you'll head for Jim Jim and Twin Falls, which plunge off the escarpment, making them two of the most spectacular sights in Kakadu (though you'll discover early on why you need a 4WD vehicle to get there). There's a maximum of 16 passengers  (www.kakadutourism.com/tours-activities/yellow-water-cruises/).
Kakadu Cultural Tours
Several day tours as well as a magnificent 'safari lodge' called Hawk Dreaming, the Kakadu Cultural Tours are locally owned and run with access to exclusive sites in Northern Kakadu and Arnhem Land. They operate under three major tours, the exceptional day tour into Western Arnhem Land called the Arnhemlander, the East Alligator River cruise mentioned above and the Hawk Dreaming camp.
Lords Safaris
Seb Lord is legendary in the NT as a classic "outback character. Seb's Lords Safaris take day and multi-day tours into 'his' Kakadu. His family owned and operated the last pastoral land that later became part of Kakadu National Park and has maintained his conection to the land and people.
Animal Tracks Safari
In the dry season (May–October) you can take a seven-hour wildlife safari and fascinating Aboriginal cultural tour in an open 4WD each afternoon (departing from Cooinda).
We can't recommend this enough: you'll find and hunt the ingredients for your dinner, then cook them to eat while watching the sun set over a billabong alive with bird life. Animal Tracks has exclusive access to some areas of wetlands and woodlands, with a maximum of 18 guests along with the expert Aboriginal guide.  animaltracks.com.au
Overnight/multi-day 4WD tours
There are plenty of 4WD tour companies that take a little longer to enjoy Kakadu, or combine it with other wonders around the area such as the Cobourg Peninsula and Arnhem Land.
Kakadu 4WD Safaris has a range of tours, including a two-day, wet-season adventure, which focus on the small group experience and venture off the beaten track.
Brookes Australia calls its Kakadu multi-day tours 'civilised adventure'; every night is spent ensconsed in a hotel if you're not interested in that camping palaver.
Venture North offers a five-day natural wonder-a-thon that takes in billabongs, swims, walks and art in Kakadu as well as the Cobourg Peninsula and Arnhem Land.
Sugarbag Safaris is a small, local outfit run by encyclopaedic Brolga Award-winning guide Hamish. His five-day Kakadu, Katherine and Litchfield tour includes a wildlife cruise and camping under the stars in a custom swag.
Kakadu's best guided walking tours
World Expeditions offer six-day trips just like this one, inclusive of all meals and semi-permanent tent accommodation.
Willis's Walkabouts run trips of varying lengths that explore the back country and are led by Kakadu die-hard Russell Willis, who's been trekking the park since 1974.
Gecko Canoeing run six-day walks in southern Kakadu, starting at Koolpin Gorge and ending at Twin Falls.
Park Trek run nine-day walking tours that cover Kakadu and Nitmiluk National Park. Accommodation is provided in resorts, cabin and units.
Auswalk tours stay at lodge or homestead rooms with ensuites. They explore Kakadu, Katherine Gorge, Litchfield and Mataranka thermal pools over nine days.
Free guided walk
One of the best things about Kakadu is that its most popular walking trails are staffed by park rangers who, during the dry season, give guided tours for free.
The tours are part of Kakadu's interpretive program, which includes guided walks, slideshows in certain campgrounds, art site talks, and cultural demonstrations like pandanus weaving and indigenous painting techniques.
The program schedule is changed each dry season, and you can be sure that, at the very least, there will be guided walks at Kakadu's two most popular rock art sites (Nourlangie and Ubirr). You can find updates to the program at Parks Australia or by phoning Bowali Visitor Centre (08 8938 1120).
The best Kakadu wet season fishing trips
When the wet season displaces millions of litres of water, which thunder through rivers and floodplains before receding, Kakadu is a fishing hotspot.
The secret is the 'run-off', a sweet spot on the calendar (mid-March to end of April) straight after the wet, when water drains back out of the floodplains into the rivers, and barramundi (alongside other fish) collect in certain areas accordingly, including Yellow Water, South and East Alligator River, Sandy Billabong, and Two- and Four-Mile Holes.
Being a national park, fishing requires a licence, but if you're not licensed (or don't want the hassle of hiring your own boat and 4WD), you can join a local fishing tour, or charter your own boat.
Most operators run out of Darwin, but there are a couple of Kakadu specialists located within the park:
Kakadu Fishing tours
Based out of Jabiru, Kakadu Fishing Tours runs a charter service that can go anywhere you like. From $240 per person for a half-day, including refreshments.
Cooinda Lodge
Based in Cooinda, virtually on top of iconic Yellow Water, Cooinda Lodge only offers fishing tours through the famous billabong. $150 per person including all fishing gear and cold drinks.
Bamurru Lodge
While not in Kakadu National Park, Bamurru Lodge it is located just nearby and turns exclusively into a dedicated barramundi fishing lodge during the run-off.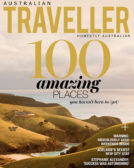 Enjoy this article?
You can find it in Issue 62 along with
loads of other great stories and tips.